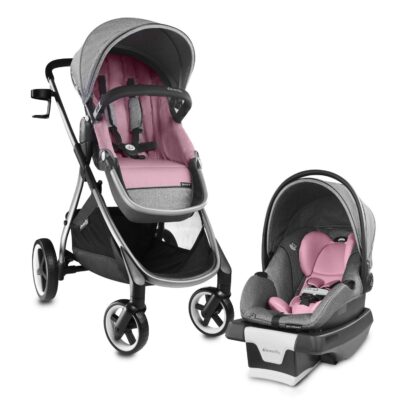 Save up to 20% on Evenflo favorites today. Premium finishes, rich, textured fabrics, enhanced padding, and sleek modern style, all at a down-to-earth price—experience the Evenflo Gold difference in every last detail. Our online customer "kettacoy" from Washington, D.C sums it up best: "My husband and I are first-time parents and we found the ease of use for the Gold Shyft to be unmatched. We love the sleek look and the many convenient options. Also, we wanted something that would last for years, versus a one and done product. By golly, we found it!" The Shyft lives up to its name, by allowing you to shift into forward-facing or parent-facing mode quickly and easily. The six different modes of use and 3-position reclining seat make it easy to angle your child for greater comfort, relaxation or an afternoon cruise. Today only, the Evenflo Gold SensorSafe Shyft Smart Modular Travel System, Opal is $97 off at $312.30!
EXCEPTIONAL VERSATILITY: 6 modes of use, including infant car seat mode, reclined infant mode that cradles your babe at a comfortable angle, and toddler mode—all of which work with your child facing in or out

PERFECT FOR LITTLE ONES: The SecureMax Infant Car Seat accommodates newborns and babies from 4 to 35 pounds.

ADJUST ON THE FLY: With one hand, one step, the No Re-Thread harness on the SecureMax Infant Car Seat easily slides up and down, allowing you to adjust the seat with no need to reinstall

EASY, PEASY ASSEMBLY: Takes just 5 to 10 minutes to put together — click in the wheels and go, with no extra parts or attachments needed

INSTANT PEACE-OF-MIND: Even when you can't see your child, SensorSafe alerts you of four potentially unsafe conditions in the car — unexpected unbuckling, unsafe temperature, the child is left unattended, and the child is seated too long

SAFETY ABOVE AND BEYOND: The SecureMax Infant Car Seat Side is side impact and rollover tested, as well as tested for structural integrity at levels approximately 2X the federal crash test standard
This post contains affiliate links.