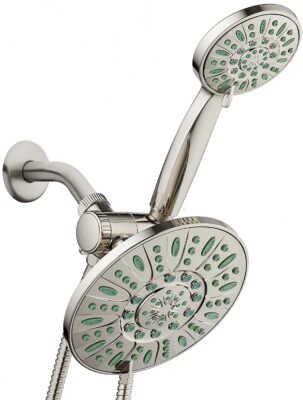 Save up to 25% off on Showerheads from AquaDance and more. Prevent risky bacteria from washing over your whole body with these specially designed showerheads! This AquaDance Antimicrobial/Anti-Clog High-Pressure 30-setting Rainfall Shower Combo, Microban Nozzle Protection from Growth of Mold, Mildew & Bacteria, Brushed Nickel Finish/Coral Green Jets is $49.99 today!
ANTIMICROBIAL / ANTI-CLOG NOZZLES FOR LESS CLOGGING & MORE WATER PRESSURE! Ordinary shower heads often loose water pressure due to clogging as blocked jet passages restrict water flow. Our shower nozzles are made with Revolutionary Microban Antimicrobial Technology that inhibits the growth of Mold, Mildew and Bacteria. Their flexible rubber design allows easy rub-clean removal of calcium and mineral deposits. This helps your shower head remain clean and clog-free for superior performance

CLEANER SHOWER FOR YOUR ENTIRE FAMILY! Since shower heads are known to harbor high concentrations of bacteria, keeping them clean is essential. Microban Antimicrobial Technology works 24/7 for Life to help prevent the growth of mold, mildew and bacteria inside and around shower nozzles. So you and your family can enjoy a cleaner shower

EASIER TO CLEAN, LONGER PRODUCT LIFE! Hate cleaning your shower head? Microban Antimicrobial Technology keeps shower nozzles cleaner between cleanings. By inhibiting the growth of mold, mildew and bacteria on shower nozzle surfaces, the Invisible Microban Protection helps prevent their degradation over time and extends the life of your shower head

REVOLUTIONARY 24/7 LIFETIME MICROBAN PROTECTION TECHNOLOGY / REGISTERED BY EPA. Developed by world leader in antibacterial technology, Microban Protection work 24/7 on molecular level to inhibit the growth of Mold, Mildew and Bacteria on treated surfaces. It does not wash off or wear away for the life of your product

LATEST DESIGN FROM TOP-BRAND MANUFACTURER. Discover the ultimate combination of Top Quality, High Power & Microban Protection! Patented 3-way Water Diverter lets you enjoy two luxury showers separately or together! Each features advanced 3-zone Dial, Rub-clean Jets & 6 settings: Rain, Massage, Mist, Rain/Massage, Rain/Mist & Water-saving ON/OFF Pause. Includes Angle-adjustable Bracket, Stainless Steel Hose, Plumber's Tape & LIFETIME WARRANTY. Brushed Nickel Finish. EASY TOOL-FREE INSTALLATION
This post contains affiliate links.