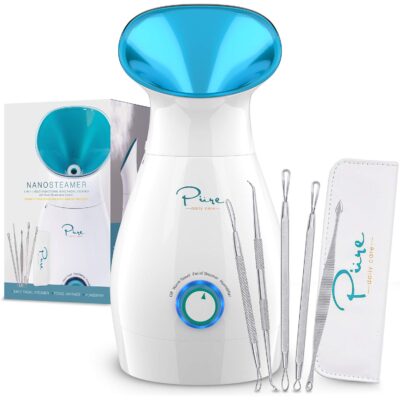 Nanosteamer is the original Nano-Ionic steamer that has spawned dozens of imitations across the world. Get the best results with true ionic steaming! Nanosteamer is the only FULL size steamer that can be used for up to 30 minutes and features 3 unique modes that can be set easily with its convenient dial. Today only, save 20% on Pure Daily Care Facial Steamers.
Nano-Ionic Facial Steamer & Humidifier – The Pure Daily Care Nano Steamer is a new type of steamer that generates nano-ionic steam. NanoSteamer does this by combining a conventional heating element with a new ultra sonic vaporizer to produce nano steam with negatively charged ionic particles. Nano steam combined with ionic water particles are up to 10x more effective in penetrating skin.

Professional 5-Piece Skin Kit Included – A Bonus 5 piece stainless steel blackhead and blemish extractor kit is included with every Nanosteamer. This kit includes 5 precise instruments that compliment your Nanosteamer perfectly. Followup your steaming session by using this kit to remove blackheads and blemishes effortlessly for perfect skin after every use.

Genuine 3-in-1 Beauty & Wellness Device – Nanosteamer is a true multifunctional device can also be set to humidify a room and has an extra chamber to warm towels for ultimate refreshment or quick and easy makeup removal.

Full Size Steamer with the Longest Running Time – NanoSteamer is the only full size device with a larger 200ml water tank allows for 30 minutes of working time with a completely silent operation. It also includes an auto shutoff sensor that powers Nanosteamer down when water runs out.

What's in the Box – 1 NanoSteamer Facial Steamer, 5-piece stainless steel skin kit with storage pouch, Power cable, Instruction and support contact manual
This post contains affiliate links.