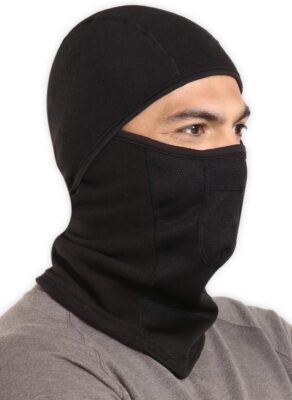 Long days on the job, cruising down the ski slopes, or pedaling to work in cold weather can get grueling — and fast. So it's time to get prepared, bundle up in the right gear, and show winter who's boss. We've got you (fully) covered when it comes to staying warm and cozy — click here to save up to 20% off Tough Outfitters Winter Headwear.
Whether you're braving the cold for landscaping work or you just need to pop into the store with a face mask on, our winter balaclava will keep you comfortable, warm, and dry for hours on end. Made from a lightweight polar fleece with four-way stretch and panels to increase airflow and prevent condensation, you'll breathe easy all day. Wear it as a full ski mask, open balaclava, half mask, ninja hoodie, or neck gaiter — it has a hinged design that makes for a snug but comfortable fit, no matter how you wear it. This Mens Extreme Cold Weather Full Face Mask – Winter Ski Mask Balaclava – Snow Head Gear for Construction, Working, Motorcycle, Snowmobile, Snowboard & Skiing. Fits Under Helmets is only $11.96 today!
All-Around Protection: Amp up your protection against cold, wind, dust, and UV — our cold weather balaclava provides full head and face protection against the elements. Whether you're out on the job in the cold, need a ski mask while you carve down the slopes, or heading out for a ride on your bike, we've got you covered.

Ultimate Comfort: Constructed with a stretchy, lightweight and breathable fabric, our balaclava is super warming but breathable — thanks to a polar fleece lining that retains heat. Meanwhile, mesh breathing panels increase airflow, prevent stuffiness and minimize condensation on your glasses or safety goggles.

Switch It Up: Wear your balaclava on its own, under a hard hat or helmet while you work, or as a full face mask, open balaclava, half ski mask, ninja hoodie, or neck gaiter. Its hinged design makes it easy to put on, take off, and comfortably adjust. Just don't wear it in an airport or bank!

Heavy Duty Mask: The lightweight face mask you wore throughout the summer isn't going to cut it as the cold weather rolls in. Opt for this heavy duty mask that's breathable and will keep you warm and protected.

Go-To Adventure Buddy: Put your balaclava to work — it makes the best right-hand man on the slopes or on the job. Heavy duty and warm, it's the perfect addition to your adventure and workwear getups to keep frostbite, sunburn and every other monstrous condition off your face so you can focus on the task at hand.
This post contains affiliate links.