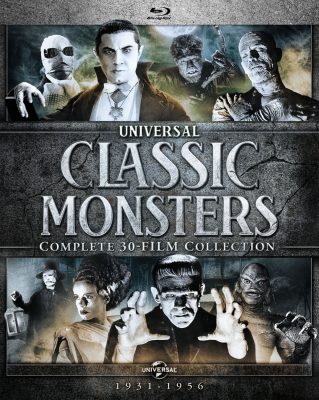 Today only, get the Universal Classic Monsters: Complete 30-Film Collection on Bluray for only $69.99.
A collection of all 30 Universal Classic Monster films from 1931 – 1956 with a 48-Page Collectible Book and hours of bonus features including Behind the Scenes Documentaries, the 1931 Spanish Version of Dracula, Featurettes on Bela Lugosi, Boris Karloff, Lon Chaney Jr. and Jack Pierce, 13 Expert Feature Commentaries, Archival Footage, Production Photographs, Theatrical Trailers and much more! Dracula (1931) Frankenstein (1931) The Mummy (1932) The Invisible Man (1933) The Bride of Frankenstein (1935) Werewolf of London (1935) Dracula's Daughter (1936) Son of Frankenstein (1939) The Invisible Man Returns (1940) The Invisible Woman (1940) The Mummy's Hand (1940) The Wolf Man (1941) The Ghost of Frankenstein (1942) The Mummy's Ghost (1942) The Mummy's Tomb (1942) Invisible Agent (1942) Phantom of the Opera (1943) Frankenstein Meets the Wolf Man (1943) Son of Dracula (1943) House of Frankenstein (1944) The Mummy's Curse (1944) The Invisible Man's Revenge (1944) House of Dracula (1945) She-Wolf of London (1946) Abbott and Costello Meet Frankenstein (1948) Abbott and Costello Meet the Invisible Man (1951) Creature from the Black Lagoon (1954) Abbott and Costello Meet the Mummy (1955) Revenge of the Creature (1955) The Creature Walks Among Us (1956)
This post contains affiliate links.