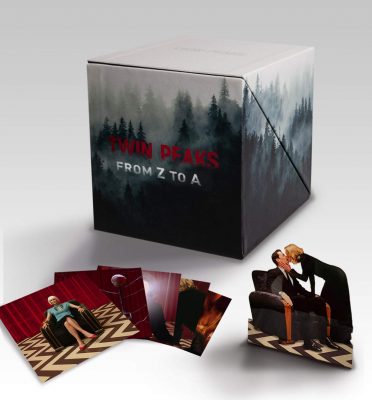 Get Twin Peaks: From Z to A on [Blu-ray] for only $89.99! Limited to 25,000 copies worldwide, immerse yourself in the entire universe of Twin Peaks with this bluray set, jammed full with extras and bonus features that any fan will love. Click here to save on Twin Peaks titles today only!
Seasons 1 and 2 of 

The Original Series

, 

A Limited Event Series

, 

Fire Walk with Me

 and its deleted scenes: 

The Missing Pieces

4K Ultra Hi-Def versions of the Original Series Pilot and Part 8 of 

A Limited Event Series

Behind The Curtain: over 7 hours of new behind the scenes/making of footage for all 18 parts of 

A Limited Event Series

A Brand New Interview with Kyle MacLachlan and Sheryl Lee

On The Couch with Harry and Kimmy featurette

Full-length, unedited versions of a number of the musical performances at The Roadhouse Bar from 

A Limited Event Series

Exclusive die-cut, acrylic figure of Laura Palmer kissing Agent Cooper

The Red Room Gallery: a curated set of 5 x 5 printed cards depicting memorable moments in The Red Room

An individually numbered collectible certificate

A slew of previously released special features
This post contains affiliate links.