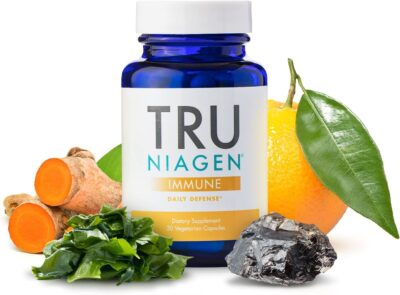 Click here to save on TRU NIAGEN Unlock Advanced Inner-Body Aging Science!
NAD+ is like oil for the engines of your cells, without it, life as we know it would not be possible. It's fundamental for the building blocks of life, your immune system included. Get this TRU NIAGEN Immune Support Supplement – Daily Defense – Vitamin C from Fermentation, Vegan Vitamin D3 2000 IU, Zinc, Plus Theracurmin (Curcumin) + Multi Award-Winning NAD Boosting Niagen 150mg 30ct for only $26.25. 
Designed to address the age/immune health connection—You probably don't realize it, but your immune system undergoes changes as you age. Tru Niagen Immune is the first-of-its-kind supplement containing ingredients that support full-body healthy aging at the deep cellular level and ingredients for proven immune system defense.

Made by the award-winning company that's pioneering the extraordinary science of healthier aging. Our flagship product, Tru Niagen, has won multiple awards.

Tru Niagen Immune contains Niagen (nicotinamide riboside), our patented flagship supernutrient that is proven to increase NAD+ levels. NAD+ is a vital compound that your cells use for energy to perform their many functions—without NAD+ life as we know would not be possible. Niagen is backed by 40+ owned and licensed patents, 300+ published scientific studies, and 250+ global research collaborations.

Includes novel forms of immune-boosting nutrients you probably recognize (vitamins D, C, and zinc), plus Theracurmin, a highly absorbable form of curcumin, as nutritional support to feed your system extra helpings of what it needs to thrive.

Tru Niagen Immune is meant to be taken daily and is best used in conjunction with the original Tru Niagen, which increases your NAD+ levels further. Tru Niagen Immune is shelf-stable for 24 months after the manufacturing date stamped on your bottle—expiration is two years after manufacture date.
This post contains affiliate links.