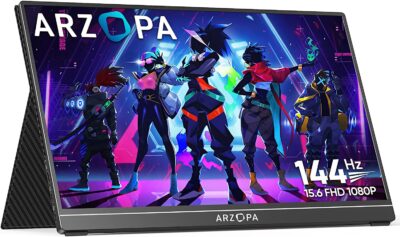 Save on ARZOPA Portable Monitors!
This monitor has all the features you need to make time on the computer more productive, convenient, and comfortable! Get this Arzopa 15.6" 144Hz Portable Gaming Monitor, 1080P FHD Portable Monitor with HDR, Ultra Slim, Eye Care, External Second Screen for Laptop, PC, PS5, Mac, Raspberry Pi, Xbox, Switch-G1 Game for only $149! (Don't miss the extra coupon for $20 savings)
[15.6″ 144Hz Display] Arzopa G1 portable monitor has 144Hz ultra-high refresh rate and 1080P HD resolution for higher motion clarity and smoother gaming visuals. The screen features 1080P, FHD,IPS and anti-glare display. The 144Hz high refresh rate brings lower input latency and higher videos, work and game screen quality.

[Ultra-Slim, Light-Weight Monitor] Arzopa 144Hz ultra-high definition, light waight and portable gaming monitor. Keeping in mind the portability of the monitor, we have created a lightweight and easy to carry screen which weighs 1.7lbs and is 0.3-inch slim. Your work and entertainment gets done efficiently while you are on the trip. Connect G1 to your gaming device to play anytime, anyplace.

[Plug-and-play Monitor] With two fully functional USB Type-C connections and a Mini HDMI port, it may be used with a laptop, a PC, a Mac, a Raspberry Pi, a smartphone, an Xbox, a PS5, a Switch, a Steam Deck, etc. No setup or downloads are required. Perfectfor gamers to enjoy gaming, also for business people to train others or work from home.

[Second Monitor] The ARZOPA portable monitor can very well act as your second screen and improve your work efficiency. You can work and perform multiple tasks simultaneously while using this monitor. You can also switch the screen view between horizontal and vertical modes for the perspective you prefer.

[Versatile Magnetic Case] The magnetic leather case that comes with the product can not only be an excellent protection cover for the monitor, but also be a stand for more convenient using experience.
This post contains affiliate links.