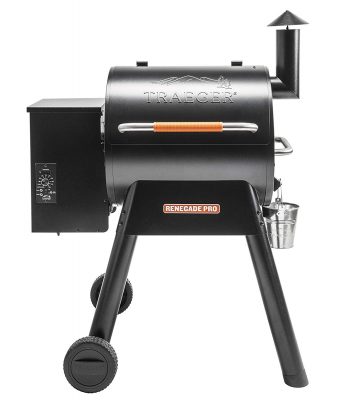 Craft amazing wood-fired fare with the Traeger Renegade Pro grill. From grilled steak, to smoked ribs, & even a freshly baked Apple Pie. Traeger's set It & forget it ease-of-use allows any home chef to master it all. Swap the gas & charcoal barbecue for 100% pure hardwood pellet flavor & grill, Smoke, roast, bake, Braise, or BBQ your next masterpiece. Today only, get the Traeger Grills TFB38TOD Renegade Pro Pellet Grill and Smoke 380 Sq. in. Cooking Capacity, Black/Orange for only $524. That's a savings of $225!
Never use gas or charcoal again: cooking with wood tastes better and adds more flavor to every meal. Traeger created the original wood-pellet grill as the ultimate way to achieve wood-fired taste.

Versatile barbecue cooking: hot and fast or low and slow, the Traeger renegade Pro pellet grill offers 6-in-1 versatility to grill, smoke, bake, roast, braise, and BBQ food to juicy perfection.

Grilled to perfection every time: integrated digital Pro Controller with AGL keeps temps within +/- 15 degrees F and makes setting the grill temperature As easy as turning a dial. Traeger grills use 1-3 pounds of pellets per hour.The pellets power The grill for about 20 hours on the smoke setting, and about 6 hours per bag when cooking on high setting

Easy and predictable: The Renegade Pro offers consistency you can trust, allowing you to craft amazing wood-fired creations time and time again with the ease of set it & Forget it.

Perfect size for the at-home cook: enjoy 380 sq. In. Of grilling area that can accommodate enough food to feed the family. Pellet Hopper capacity: 18 pounds
This post contains affiliate links.