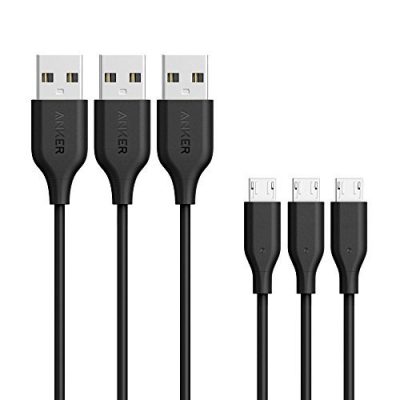 We all need to stay charged to keep up with our busy lives! Today, Amazon is making it easier by offering up 36% savings on Anker Charging Accessories. This includes not just your basic charger, but wireless chargers and power banks! Get the Anker [3-Pack Powerline Micro USB (3ft) – Charging Cable for Samsung, Nexus, LG, Android Smartphones, only $7.69 today!

The Anker Advantage: Join the 10 million+ powered by our leading technology.

Strengthened Construction: The charging cable built with bulletproof aramid fiber, PowerLine is much stronger than ordinary cables.

Lasts 10x Longer: Reinforced stress points with a 5000+ bend lifespan make PowerLine many times more durable than anything else on the market.

Faster Charging: Thick gauge wiring and reduced cable resistance enable PowerLine to provide the fastest possible charge via any USB charger, plus high-speed data transfer.

What You Get: 3 Anker PowerLine Micro USB cables (3ft each including both ends), our worry-free 18-month warranty and friendly customer service.
This post contains affiliate links.