If you've followed BargainBabe for a while, you may have seen me mention my lifelong love of thrifting a time or two. Typically, a huge proportion of our clothing and household items were discovered at our favorite charity thrift stores, including my summer wardrobe. During quarantine, I went nearly four months without going thrifting, which might be a lifetime record for me. When I finally made it back out to thrift stores, I was cautious and nervous, but it was great to get back out on the bargain trail! Since then, I've discovered some tips to minimize risk when thrifting during the pandemic.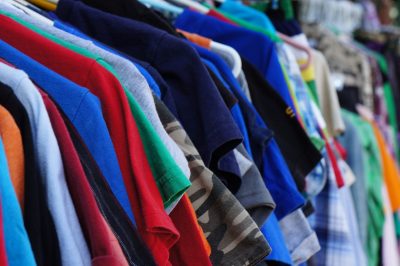 The good news is, science is showing us that surfaces are unlikely to put us at significant risk, so touching merchandise in stores may be less of an issue than we originally suspected. Nonetheless, there are safety precautions that can put your mind at ease and keep your risk at a bare minimum, while still giving you a great chance at scoring some vintage and gently-used treasures. Remember, many families have had extra time during quarantine to clean out their closets and donate the unused items they had lying around….so some stores are even more flooded with merchandise than before! It's a great time to be on the hunt, just make sure you are careful as you shop by following these tips for safe shopping:
1) Wear the gear. Besides wearing a mask, the thrift store might be a place to consider wearing disposable gloves to limit your contact with germs. Just remember, if you touch something with the gloves, they are now contaminated, so don't forget to be sensible about cross-contamination. Of course, masks and gloves are not a substitute for careful hygiene so be sure to wash your hands, stay home if you feel sick, and maintain social distance from other shoppers and employees.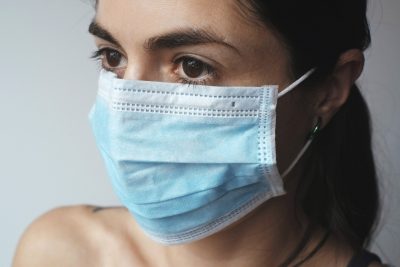 2) Go Early. Visiting your local thrift store first thing in the morning is probably your best bet. Most shoppers don't venture out that early, so there is likely to be fewer shoppers in the store. Many stores do their heavy-duty cleaning at the end of the day, so the store has probably been closed and clean for hours during the night. Many stores also put out new merchandise in the morning so you are likely to have the pick of the merchandise as well!
3) Go Hands-free. Shopping during a pandemic can be more stressful than ever. A hands-free crossbody purse is the way to go, so that juggling your personal items, hand sanitizer, mask, and gloves is as simple as possible. The only bag I carry is the Sash Bag, which has a dedicated pocket for everything I need and is so comfortable and ergonomic I don't even take it off while driving! It's one less thing to worry about when shopping during COVID-19 and gives me easy access to hand sanitizer, masks, my phone and everything else in my shopping arsenal.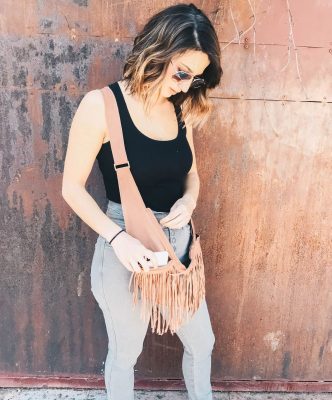 4) Call ahead. The rules have changed during this unusual time in history, so call your store ahead to be extra prepared. Some questions you might ask are, "Have your hours changed?", "Are dressing rooms open?" "Do you accept credit cards or are you asking for exact change in payment?" My favorite thrift store changed their hours so they weren't open when I arrived last week. I sure wish I had called ahead! Getting the info straight from the employee is the best way to stay on top of store policies.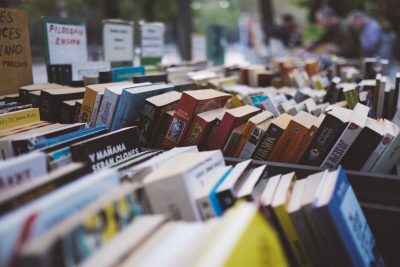 4) Bring a list. This is probably not the time to be meandering aimlessly through the aisles, so having a plan at the onset is the way to be efficient. Make a list of what items you are looking for and try to shop strategically in the store while avoiding other shoppers.
5) Skip the dressing rooms. It's possible to safely try on clothing during COVID, but many of us would prefer to avoid the situation if possible. Here are a few ideas for limiting the need for dressing rooms:
Know your size and be familiar with how different brands run. If you have had good luck with LOFT, size Medium, chances are you are safe to choose that size again!

Know your store's return policy. For example, Goodwill now offers a return policy at many locations. Sometimes I purchase clothing, try it on at home, and then go from there. As a matter of fact, my Goodwill no longer tags items with paper tags and only uses color-coded plastic kimble tags or hang tags. So sometimes I wash the clothing at home, try it on, and return if necessary, since those tags remain intact through washing and drying. I assume that no one would have an issue with me returning clothes that are cleaner than before!

One final idea is the "neck trick" that I learned from a fellow thrifter.

Click here to read about it

; I have found it to be very accurate!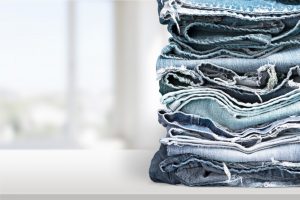 6) Clean with Care. Of course, your best practice is to put clothing items in the washing machine immediately when you get home. I like to add a generous splash of vinegar to my loads to give them a bit more disinfecting power, but the process of soap and water agitation should be sufficient to take care of any germs. For items that aren't typically "washable", I spray them with a gentle but powerful cleaner that is EPA-approved to kill COVID (click here to learn about Force of Nature). If you need a little extra reassurance, bag the items and leave them in the sunshine for nature to do the hard work!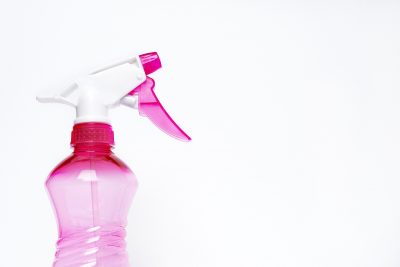 7) Be careful and kind. Regardless of your personal experience during this pandemic, it's important to acknowledge that people are stressed and worried and emotions are running very high. I am making a conscious decision to go out of my way to be kind and careful every where I go. The store clerks are on the "front lines" in many ways and have been faced with additional risks and stress without thanks or much in the way of gratitude from the public. Remember, smiling boosts the immune system and showing extra grace to others can only improve your mood and day. Thrift safe!
This post contains affiliate links.