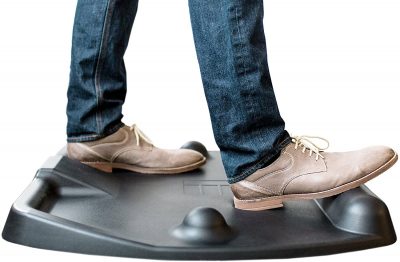 Do you stand when working, at a desk or work station? Amazon's Deal of the Day is perfect for you! Right now, get the TerraMat Ergonomic Standing Desk Mat/Anti Fatige Mat for only $79.99. That's $120 off the listed price! The right foundation can make all the difference for your comfort, health, and performance, so check out what makes this mat so impressive: 
DON'T SETTLE FOR A NORMAL MAT – WATCH THE VIDEO BELOW: Check out our Famous Kickstarter Video below in "Related Video Shorts" to see how it works. The patent-pending TerraMat relieves the burden and pressure from standing all day so you can stand longer without fatigue or aching feet and legs. Its 3D features offer over 11 different possible stances so you'll never get bored!

MOVE WHILE YOU WORK & BURN MORE CALORIES: Featured on Forbes and The Huffington Post, this anti-fatigue standing desk mat is made with material that is thicker than competitors. It has features that help keep you moving as you stand and burn more calories.

3D FEATURES FOR STRETCHING & MASSAGING: Designed by a personal trainer and engineer, the foam-like 3D features of this standing desk mat encourage subconscious movement and stretching. Thousands of people already love the TerraMat, which raised over $100,000 on Kickstarter!

HIGH-QUALITY MATERIAL: Most standing desk mats are flat, boring and way too thin. They belong in the kitchen…not at your standup desk. The TerraMat is thicker than most standard standing desk mats to provide durability and more comfort for your feet and legs.

EASILY TRANSITION FROM SIT TO STAND: The TerraMat slides out easily from under your desk using just one foot to position it. If you aren't 100% satisfied with your TerraMat purchase, we will give you a full refund, no questions asked!
This post contains affiliate links.