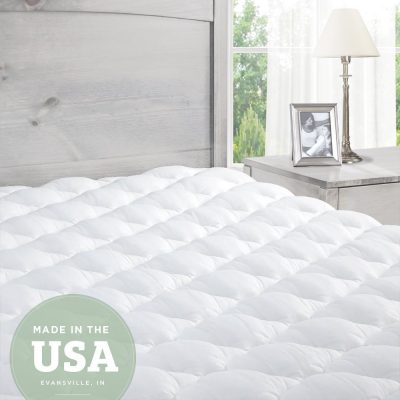 Amazon's Deal of the Day is a price drop on Pillowtop Extra Plush Mattress Pad/Topper with Fitted Skirt; right now the Queen size is only $73.99! This product is provided by eLuxury Supplies and has an impressive fifteen hundred 5 star reviews! Considered the "Marriot Mattress Pad", these are Made In the USA and have the following luxury features:
SIZE & DESIGN: Queen Mattress Pad | 60″ x 80″, This mattress pad is perfect to revitalize your sleep and will fit mattresses up to 18″ deep.

MATERIAL: Polysoft cover uses unique polyester fiber clusters to provide an extraordinary level of comfort that will change your sleep for the better. The backing is constructed using a polyester/cotton blend for optimal comfort. This Mattress Pad is a perfect choice if you're considering a comfortable, soft, breathable and high quality mattress pad. It protects against dust mites, allergens and bacteria great for those with kids, pets, allergies, asthma.

Each pad is filled with 25 oz. per square yard of Revoloft, a state-of-the-art fiberfill that has the feel of authentic goose & duck down without the feathers, poking or allergies. Oft and silent protection that doesn't disrupt your valuable sleep, makes you sleep well all night. This is great for those with any type of mattress including innerspring, latex or memory foam

HYPOALLERGENIC: This exclusive and extraordinary fiber technology gives you the look and feel of down only better, and makes the cover 100% hypoallergenic. 160 thread count cover with double needle baffle box stitch prevents fill from shifting or moving around.

GUARANTEE: We have sold over 1 million mattress pads and customer satisfaction is our top priority with each transaction, money back guarantee if you are not 100% satisfied.
This post contains affiliate links.