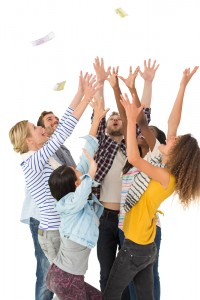 During a recent dinner, I started to talk money with a friend. He is the bread winner, and his wife stays home with their two children. The conversation turned to salary and he disclosed how much he brings home each year – about $10,000 less than I do – and how funds are really tight. A sudden guilt washed over me and I wanted to pay for his meal and every meal for the unforeseen future.
The entire drive home, I couldn't stop thinking about how my friend had four mouths to feed and four bodies to clothe, and I have one.  A thought came to mind:
How should I talk money with friends?
I started thinking about previous conversations, and how whenever we made plans he'd always offer up the suggestion of a meal at my house or his. I don't think much of it, assuming he and his wife just want me to see the kids on a regular basis. More often than not, I always convince them to leave the kids at home and come out with me.
My friend's intention in mentioning his salary did not have a hidden agenda, it was simply giving his situation context. The fact that I feel guilty at all might mortify my friend. Still, questions swarmed in my mind.
What if they don't want to eat out because of finances?
Do they feel pressure to say yes to last week's movie?
Should I offer to pay for half of the babysitter fees?
During our conversation, I did not tell him my salary. He didn't ask, and I didn't feel comfortable. I also didn't think until later to tell him that we don't have to spend money when we spend time together. It is more important to me to see his family than try the newest restaurant.
I'm not sure how to bring the topic up again without making my friends feel uncomfortable. We don't regularly talk money but we have been friends a long time, so I don't think they would feel like I was being disrespectful. I'm just not sure of the best approach.
So, I ask you. What do you think?
How should I handle this situation?
Do you talk to your friends about money?
And what about being on the other side of the conversation. If you are the frugal one, could money be hurting your friendships?