It's hard to believe that July is almost here! It's been a looooong year in the Prescott home and I can't even tell you how happy I am to embrace summer. I shared a little bit about my weight gain last summer, and I am happy to tell you that I've lost 25 lbs since September. That's great news, but it does mean that my wardrobe is looking really sloppy, ill-fitting and outdated. I'm ready to switch some things out and try some of the newest fashion trends, assuming I can find them at a great price! As always, my first stop is Amazon because you just can't beat the prices, availability and 2 day shipping!
So let's get started with the challenge of building a summer wardrobe that will make getting dressed the easiest part of your day. I think with a little savvy shopping we can pull some great items together, even on a tight budget. Let's get started with one of my favorite summer wardrobe items, the maxi dress!
The Maxi
Sometimes I like patterned maxi dresses, but this year I'm craving simple soft fabrics in classic solids. A nice solid maxi dress is also the perfect backdrop for denim vests, floaty kimonos, long statement necklaces and loopy scarves once the weather turns cool again. I love this Ruffled Off the Shoulder Maxi dress in Navy, Black or Pink (which is a lovely dusty rose color). The reviews for this dress are incredible and it's only $25.99!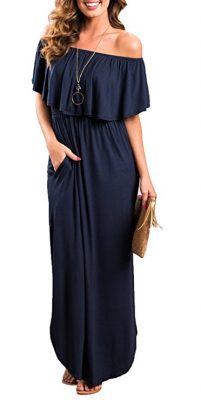 Click here for more Maxi Dresses.
The Kimono
Next up, my very favorite item this season that is turning up EVERYWHERE, the Kimono! I am obsessed with Kimonos because they are super light weight and comfortable but they still add that nice finishing touch to an outfit. The patterns are so fun and everything about a kimono just says "summer" whether you wear it over a little black dress to dinner, as a cover up at the pool or with shorts and a tee to run out shopping. This Floral Chiffon Kimono is super sweet, has great reviews and is only $15.99. There are tons of patterns also!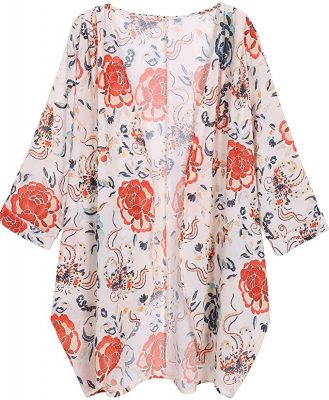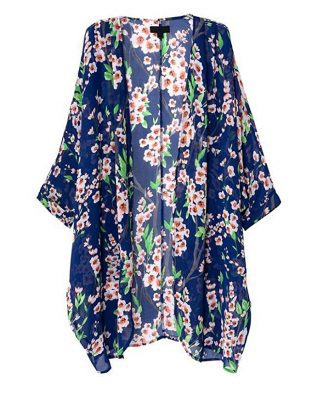 Click here for more Summer Kimonos!
Cork Sandals
I'm stocked up on sandals this year, but I'm loving the look of the Blowfish Women's Granola Fisherman Sandal. I love the Birk-look mixed with the leather-style straps and buckles. This pair runs from about $25-$30 and, again, has fantastic ratings from customers. I've been wearing Blowfish for years and they're such great quality for the budget price! If you haven't given Blowfish a try, I totally recommend them.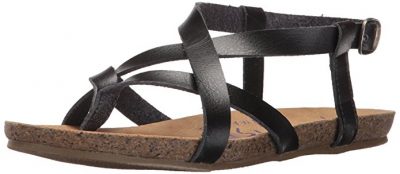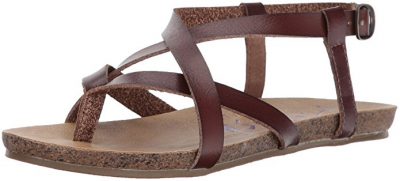 Click here for more Cork Bed Sandals.
Cold-Shoulder Tops
I'm happy to report that Cold-Shoulder tops are still trending and are a nice way to add a little extra to your basic summer tee. I want one that still has plenty of structure and a flattering drape without revealing too much, and this Cold Shoulder V-neck top does the trick at only $14.99! As always, I'm sharing an option with AMAZING reviews so this purchase should be a no-brainer! I also love this strappy version for $16.99.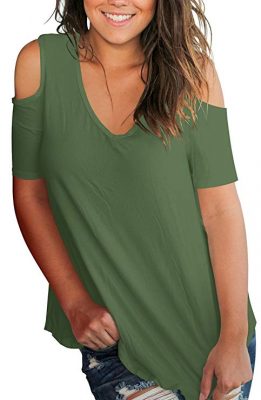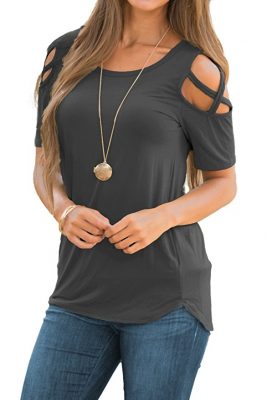 Looking for more cold-shoulder tees? Click here for a huge selection!
Layered Necklaces
I love the chunky statement necklaces as much as the next girl, but sometimes they literally feel like a weight on your shoulders! Light layered chains are a great alternative that won't drive you nuts during the oppressive heat. I love this layered set because it's three separate necklaces so you can mix and match or wear each one separately! At only $9.99 it's a great bargain you'll wear year round.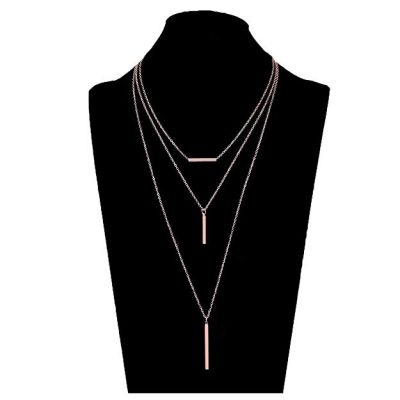 Looking for more layered necklaces? Check out the selection here. 
The Perfect Shorts
Ya'll know I'm a thrifty shopper so I have to point out that buying new jean cut-offs is kind of a waste of money.I'm just sayin', these are SO easy to make and jeans are a dime a dozen at thrift stores. But if you don't want to make them yourself, there are still great options on Amazon from distressed to structured. Finding the perfect pair of shorts is kind of a challenging mission, but there are a couple brands I personally have great luck with: NYDJ (pricey, but awesome fit) and Gloria Vanderbilt. (Spoiler alert: these are kind of Mom shorts, and I'm ok with it.) If you are looking for a budget pair with great reviews, I recommend that you check out Levi's Modern Skinny Short, which is about $15.99 in several sizes.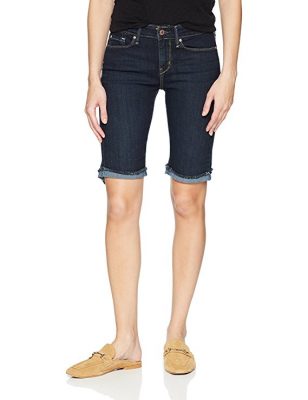 Click here to find all the shorts for the summer!
Easy Breezy Summer Bag
If you've ever wanted a perfectly comfortable, lightweight, completely organized and functional purse, you aren't the only one! I was searching for this exact thing and all the options I was seeing just weren't quite right. I've got great news: I've found the magical unicorn purse: the Sash Bag. It's one of my favorite discoveries ever and I haven't carried anything else all year. Click here for my review with a discount code to save 10%! A few styles of the Sash Bag are available on Amazon as of today, so check those out. If you're looking for a trendy summer bag at a lower price point, I love the beachy, vintage vibe of the Mily Straw Bucket Bag, only $19.99 right now!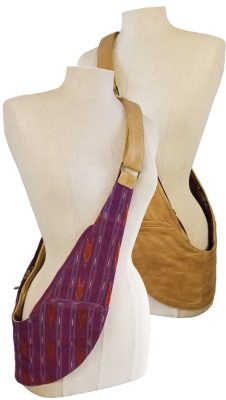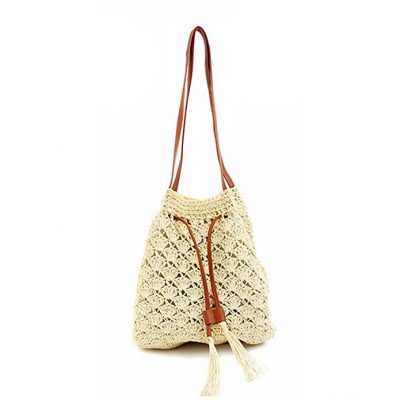 Statement Earrings
Someone mentioned statement earrings as a summer wardrobe must-have and I agree. Since most of us have a simplified, lighter warm weather wardrobe it's nice to add a little something extra as a finishing piece. Long, dramatic earrings are the perfect solution! I love this pair by Chic Moon for only $7.99. Even if you have issues wearing pierced earrings, like I do, there are some great clip-on solutions available. They are a little pricey, but check out Miyabi Grace on Amazon!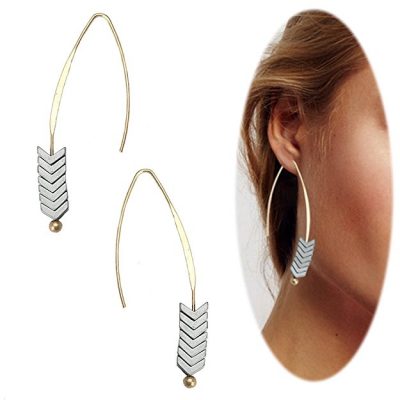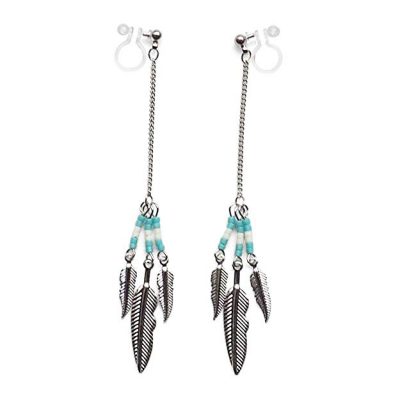 What are your favorite summer wardrobe must-haves? Share them with us in the comments!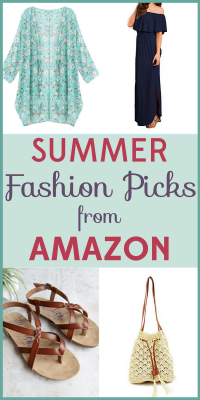 This post contains affiliate links.