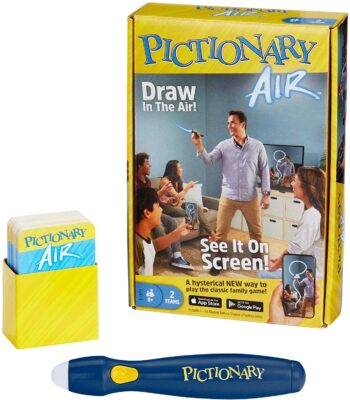 If you are like me, you have a lot of Spring Birthdays to buy gifts for! Click here to save up to 57% off Toys from WWE, Mattel Games, and more. My friend said this game is absolutely hysterical! Click here to score Pictionary Air Drawing Game, Family Game with Light-up Pen and Clue Cards, Links to Smart Devices, Makes a Great Gift for 8 Year Olds and up [Amazon Exclusive] for only $14.48!
Get up and get moving with Pictionary Air, a hilarious twist on the classic drawing game!

Download the free Pictionary Air app, point the in-app camera at the illustrator and they'll appear, along with their sketch, on the screen of your smart device.

Take turns drawing clues in the air while your teammates guess the images that appear on the screen. The team with the most points wins!

The easy-to-use app lets you record your performance and play it back for more laughs in between rounds, or save and share it with your friends.

Adjust the round timer and number of rounds to give beginners or younger kids more time to draw. Selfie Mode allows you to draw without any time limits or rounds.

For even bigger laughs, cast gameplay onto your TV using Apple TV, Chromecast or compatible streaming device at home. Compatible streaming device required. Check the Pictionary Air support page for device compatibility. You may also use adaptors (not included) to connect your phone/table directly to your TV via HDMI.

Pictionary Air is perfect for any party or game night with 8 year olds and up. Includes Pictionary Air pen, 112 double-sided clue cards and card box.
This post contains affiliate links.