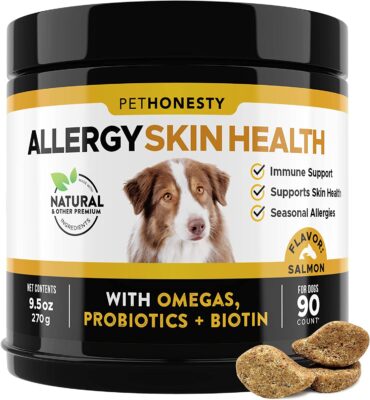 Click here to save on PetHonesty Pet Supplies! After watching our own family pets experience issues like dry and itchy skin, joint discomfort, and stomach issues, we wanted to do MORE to help their pups live healthier and more comfortable lives. That's when the idea of delicious supplements filled with powerful, natural ingredients was born! Get this PetHonesty Allergy SkinHealth – Fish Oil for Dogs with Omegas, DHAGold, Flaxseed, Probiotics for Itch-Free Skin, Shiny Coats, Hotspots, Reduce Shedding – Soft Chews for Healthy Skin & Coat for only $21.59 today. 
Soothes Skin-related Issues Associated With Seasonal Allergies: Owners who watch their dogs suffer from skin conditions like dermatitis, constant itching/scratching, hot spots and inflammation know how painful it can be. Filled with Omega-3s, Probiotics, Vitamin E and more, Allergy SkinHealth soft chews support healthy skin and skin-related issues associated with seasonal allergies and dry climates.

Supports A Healthy Immune System + Normal Digestion: Many skin and coat issues can stem from poor nutrient absorption and unhealthy guts. Canine specific probiotics in SkinHealth soft chews help support a normal immune system response, healthy digestion and nutrient absorption in dogs.

All- Natural Flaxseed, Vitamin E, Probiotics And Omega-3's Safely Support Skin Health – SkinHealth soft chews are a gentle and safe yet highly effective solution for your dog's skin and coat issues. Powerful all-natural ingredients like Flaxseed, Vitamin E, Probiotics, Small Fish Oil (low in mercury), Krill, Kelp and DHA Gold are filled with antioxidants, vitamins and healthy Omega-3's and Omega-6's that contribute to healthy skin and a shiny coat.

Gentle, Natural + Made In The U.S.A. – At PetHonesty we're committed to premium quality ingredients and strict safety standards. Our dog chews are made in the USA with only the highest-quality US and globally sourced ingredients derived from natural sources and contain NO harsh preservatives, corn, soy, GMOs or chemical ingredients.

Delicious Natural Salmon Soft Chew Taste – These skin and coat soft chews act more like treats for your dog with their delicious natural salmon flavor taste and soft chew texture. No more hiding pills, powders or tablets in peanut butter or kibble – dogs BEG for these "treats" they taste that good!
This post contains affiliate links.