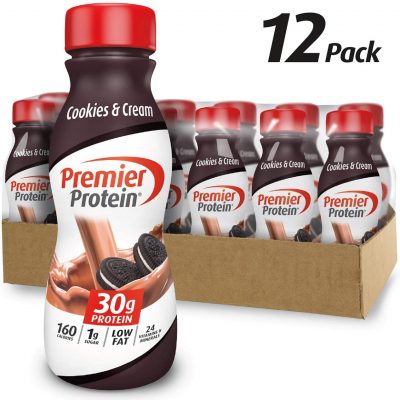 Click here to Save up to 25% on Premier Protein shakes. Packaged in a new 11.5oz bottle, each Premier Protein Shake contains 30 grams of protein, complete with all of the essential amino acids, 1g of sugar, 5g carbs, 160 calories, 24 vitamins & minerals, and is also low in fat. We use a proprietary blend of milk protein, casein and whey protein in our shakes to help fuel muscles quickly and for several hours to help support your goals. Enjoy a shake as a meal replacement or a healthy snack. They are perfect for breakfast on-the-go, an afternoon snack, or as pre- or post-workout fuel. They are delicious as is, but are also highly customizable. Try blending with your favorite fruits and vegetables for a delicious smoothie or adding to cereal or oatmeal. Get the Premier Protein 30g Protein Shake, Cookies & Cream, 11.5 Fl Oz Shake, (Pack of 12) for only $17.99 today!
Packaged in a new 11.5oz bottle, each shake contains 30g of protein with all the essential amino acids, 160 calories, 1g sugar, low fat, 24 vitamins and minerals, 5g carbs

Recipient of the American master of taste Gold Medal for superior tasting ready-to-drink protein beverages in a national taste test by chefs in America in 2015, 2016, 2017, 2018, and 2019

Available in eight delicious smooth and creamy flavors: Chocolate, Vanilla, Caramel, Cafe Latte, Cookies & Cream, Strawberries & Cream, Bananas & Cream, and Peaches & Cream. Enjoy them as a delicious meal replacement, a satisfying snack, or workout fuel
This post contains affiliate links.