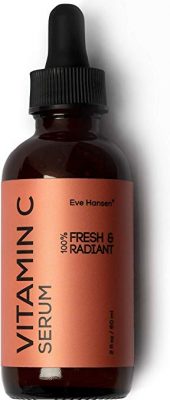 It's hard to choose the right skin product, but with Eve Hansen you can discover beauty the natural way, with Natural and Organic Ingredients that are Vegan and Cruelty-free,made in the USA. These products are also free of Sulfates, Parabens and Phthalates making them so much safer than the industry standard. Click here to save on Organic Beauty Products by Eve Hansen. There are two different products to choose from today: Natural Retinol Serum and this Vitamin C Serum, which is only $9.97 after you clip the $2 coupon.

REJUVENATE AND BRIGHTEN skin with Vitamin C facial serum. Vit C serum for face is an effective skin serum that acts as a deep wrinkle filler, brown spot remover for face, age spot remover for face, pore minimizer, and a treatment to reduce fine lines, dark circles, sagging skin, eye bags, and to boost skin's natural defenses.

ANTI WRINKLE SERUM will enhance collagen production and help in acne scar removal to slow the effects of environmental stressors. Vitamin C is a natural skin care hyperpigmentation treatment that will result in skin clarity and even skin tone while strengthening skin's protective barrier.

TIGHTENING SERUM and deep wrinkle filler for firmer skin – acts as a face lift serum by helping reduce the appearance of sagging skin- Improves overall complexion, shrink pores and helps achieve smooth skin with a youthful glow.

All natural vitamin c moisturizer serum for face and skin brightening serum uses a unique antioxidant blend for highest potency and effectiveness. Powerful anti aging serum, hyaluronic acid serum with Vitamin C, Vitamin E, Hyaluronic Serum with Vita Acid and Organic Aloe.

DISCOVER BEAUTY THE NATURAL WAY– Natural and Organic Ingredients. Vegan. Cruelty-free. Made in USA. No Parabens. No Sulfates. No Phthalates.
This post contains affiliate links.