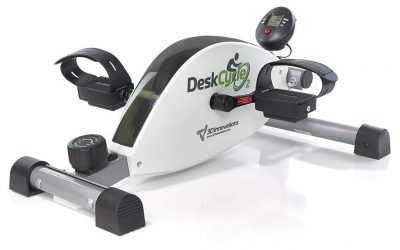 If I could just exercise while blogging, I'd be in great shape! This DeskCycle is such an awesome idea. Today only, get the DeskCycle Under Desk Exercise Bike and Pedal Exerciser for only $119. That's a discount of 30%. In fact, exercising during your work day could improve your health, energy-level and productivity. In addition to losing weight, improving their health, and extending their lifespan, people who exercise before or during work are happier, suffer less stress, and are more productive. This was discovered in a study performed by the University of Bristol.
The DeskCycle-2 is the same top quality bike as the DeskCycle with the addition of the adjustable leg and a fresh new logo. Set the maximum pedal height to 10 inches like the DeskCycle, or drop it down to 9 inches to give you more desk clearance.

Use at work or home – Use while on your phone, watching TV, playing video games or any time you're sitting still and your legs are free. It's great for general exercise and physical therapy.

Smooth and Quiet Magnetic Resistance – Pedal away quietly without disturbing your coworkers or family members. The DeskCycle has ultra-smooth smooth pedal motion. This makes pedaling the DeskCycle an unconscious activity so you can focus your attention on your work or other activities. This is achieved by combining magnetic resistance and a precision flywheel with an effective weight of 40 lbs.

The DeskCycle-2 will work at a desk as short as 27 inches. Persons over 5'10" will need a taller desk.

Wide resistance range with 8 resistance levels – More than twice the resistance range of the other pedal exercisers; 8 calibrated resistance settings; from very easy to more than you need.
This post contains affiliate links.