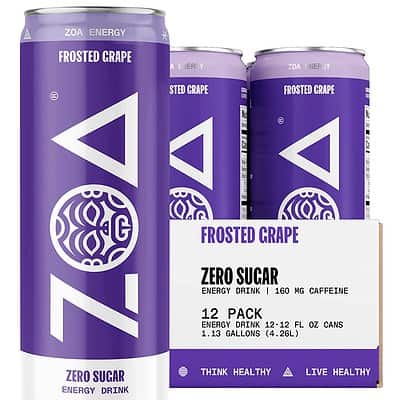 Save on ZOA Zero Sugar Energy Drinks 16oz & 12oz!
ZOA offers a one-of-a-kind, sugar free formula containing 100% DV Vitamin C, Essential B-Vitamins, Natural Caffeine, Electrolytes, Camu Camu Extract, and Amino Acids. ZOA energy drinks are not only a great source of natural balanced energy, but they also support mental focus, immunity, and a boost in hydration. Get this ZOA Zero Sugar Energy Drinks – Frosted Grape | Healthy Energy Formula with Natural Caffeine, Daily Vitamin C, Essential B-Vitamins | Gluten Free, Keto Friendly | 12 Ounce Cans (Pack of 12) for only $17.49. 
HEALTHY ENERGY FORMULA: All ZOA energy drinks are sugar free and contain a blend of essential vitamins, antioxidants, electrolytes, amino acids, and natural caffeine to give you a healthier energy boost

ALL NATURAL CAFFEINE: Powered by natural caffeine, which is a natural stimulant that can help to improve focus and concentration; Unlike traditional energy drinks that contain artificial caffeine, our energy drink uses natural caffeine derived from green tea leaves and green coffee beans, which is a healthier alternative that is less likely to cause jitters or crashes

VITAMIN C & B-VITAMINS: A healthy daily dose of Vitamin C and Vitamin B, which are essential for maintaining a healthy immune system and keeping your body running at its best; Vitamin C is a powerful antioxidant that helps to protect your cells from damage caused by free radicals; Vitamin B is essential for energy metabolism, mental focus, and the production of red blood cells

ELECTROLYTES & AMINO ACIDS: Magnesium and potassium electrolytes are essential for maintaining proper fluid balance in the body and helping to regulate muscle and nerve function; Amino acids are the building blocks of proteins and are necessary for the repair and growth of muscles, as well as the production of hormones and enzymes

CAMU CAMU EXTRACT: ZOA energy drinks also contain the uniqu ingredient, Camu Camu, which is a fruit native to the Amazon rainforest that is packed with antioxidants and vitamins; It is particularly rich in Vitamin C, containing up to 30 times more than an orange

FRESH LOOK MEETS NEW FLAVORS: Our energy drinks got an upgrade; We refreshed our look both in and outside the can; Now available in eight delicious flavors and two convenient size options, as well as conveniently packaged in single-serve 12 ounce or 16 ounce cans In a 12 pack case for easy on-the-go consumption
This post contains affiliate links.