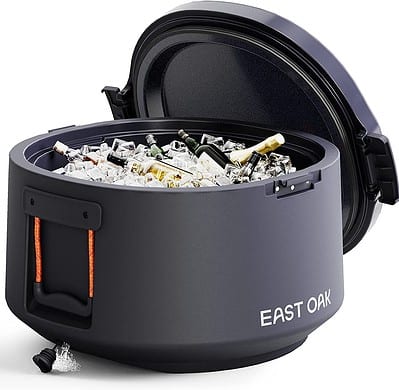 Save on East Oak Deck Boxes and Coolers!
EAST OAK's vision is to be the world's premier innovator and producer of high-quality and affordable tech-enabled outdoor lifestyle products. We are a cutting-edge brand that innovates and produces tech-enabled outdoor furniture, appliances, and adventure gear. Our team members are passionate about relaxing and adventuring outdoors, and together we are driven to create uncommonly eloquent solutions for helping others to experience these passions. Get this EAST OAK Cooler, 45 Quart Large Cooler for Camping, Durable Ice Chest, Insulated Rotomolded Cooler, Hard Cooler with Handles & Drain Plug, Keep Cold for Days for only $174.99. 
𝗞𝗲𝗲𝗽 𝗗𝗿𝗶𝗻𝗸𝘀 𝗖𝗼𝗹𝗱 𝗳𝗼𝗿 4+ 𝗗𝗮𝘆𝘀: The 2.9 inches insulated walls with commercial-grade polyurethane injected inside keeps your drinks cold for days. A superior silicone sealing ring on the lid helps the rotomolded cooler lock temperature better.

𝗦𝗹𝗼𝘄 𝘁𝗵𝗲 𝗠𝗲𝗹𝘁𝗶𝗻𝗴 𝗼𝗳 𝗜𝗰𝗲: EAST OAK hard cooler built with a diversion groove at the bottom, designed to separate the ice and water. This prevents the ice water above the freezing point from accelerating the melting of ice and prolongs the freezing storage time. Won the 2023 red dot design award.

𝗘𝗮𝘀𝘆 𝗔𝗰𝗰𝗲𝘀𝘀 𝘁𝗼 𝗪𝗵𝗮𝘁 𝗬𝗼𝘂 𝗡𝗲𝗲𝗱: Opening the latches reveals its large cross-sectional area of 16.14 x 16.14 square inches, and the depth of the cooler is only 8.03 inches, making it easy to find food under the ice. You can get what you need 360 ° from the ice chest. This really smart design combines cooler and courtyard ice bucket, making it perfect for patio parties.

𝗥𝗼𝘁𝗼𝗺𝗼𝗹𝗱𝗲𝗱 𝗖𝗼𝗻𝘀𝘁𝗿𝘂𝗰𝘁𝗶𝗼𝗻: Our sturdy camping cooler made of LLDPE material, which is virtually indestructible and can support up to 400 lbs. It is ideal for use as a table top or step stool, provides maximum durability on every adventure.

𝗗𝗿𝗮𝗶𝗻 𝗶𝗻 𝗧𝗶𝗺𝗲 𝘁𝗼 𝗥𝗲𝗱𝘂𝗰𝗲 𝗪𝗲𝗶𝗴𝗵𝘁: Our leakproof and anti-fall drain plug makes draining easy and timely, reducing excess weight. Ergonomic handle makes it easy to carry the hard cooler. With a large capacity that can hold up to 20 cans (2:1 ratio of ice to cans), the portable cooler is perfect for outdoor parties and events.

𝟯-𝗬𝗲𝗮𝗿 𝗖𝘂𝘀𝘁𝗼𝗺𝗲𝗿 𝗦𝘂𝗽𝗽𝗼𝗿𝘁: Please check the manual for customer service email to contact us if you have any questions or problems. We provide a 3-year warranty against manufacture defects and lifetime customer support.
This post contains affiliate links.