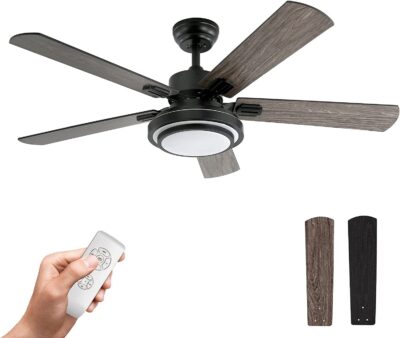 Save on Warmiplanet Ceiling Fan!
Warmiplanet is a company with a great team which has been dedicated to designing and creating ceiling fans that meet the needs of different scenarios. All parts include light source, remote and motor of the fan are rigorously tested to ensure proper working after it is installed. We pay attention to every detail, including design of user manual, installation videos and display of product functions.  Get this warmiplanet Ceiling Fan with Lights Remote Control, 52 Inch, Black, 5-Blades for $112.49!
✅[Dimensions]: This ceiling fans indoor with light come with two down rods: 5 inch and 8 inch.Dimensions is 52 x 52 x 15 Inch or 52 x 52 x 18 Inch depend on which rod you choose.

✅[LED Light]: LED ceiling fan match with 24-watt LED light which has longer service life. Pressing the ON/OFF button on the remote control continuously can change the color temperature from cool white (6000K) to warm white (3000K) to natural light (4000K).

✅[Double-faced]: Ceiling fan with remote has double-faced. One face of the blade is Black with stripe and the other face is Classic solid wood veneer.

✅[Silent Reversible Motor]: Reverse airflow function can change the direction of the fan according to your needs in summer or winter.The fan also has timing function.

✅[Product guarantee]: Motor warranty is 10 years, the whole fan warranty is 2 years. If you have any questions, please contact us and we will reply within 24 hours.
This post contains affiliate links.