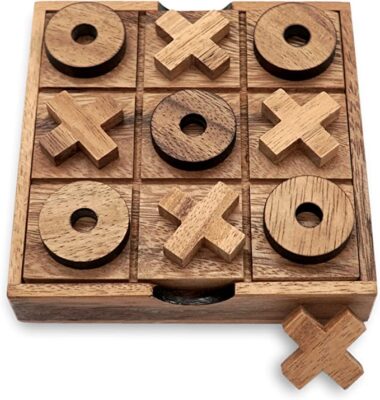 Save on BSIRI Classic Wooden Toys and Puzzles!
HB3F by BSIRI has been developed to bring back the sense of togetherness that is being lost in an age of nuclear families. The meaning behind HB3F is "Being Happy with friends, family, and fellows (3F). You will always be happy and healthy when you destress with your loved ones. We want to Make Happiness Happen for you. Get this BSIRI Tic Tac Toe Wooden Board Game Table Toy Player Room Decor Tables Family XOXO Decorative Pieces Adult Rustic Kids Play Travel Backyard Discovery Night Level Drinking Romantic Decorations for only $7.67. 
Living Room Decor And Coffee Table Decor – These Board Games Wooden Desk Decor For Kids Toys Puzzle Playing And Family Games. It's Game Room With Nice Wooden Appearance Will Add Elegance To Any Coffee Table Corner. Featuring Solid Blond Wood, This Neutral Color Flatters The Decor Of Every Home And Every Room Corner. Enjoy A Game That's Not Only Fun But A Work Of Art Too.

Tic Tac Toe Game Great Qualify – Tic Tac Toe Game For Kids And Game Board Table Well Made High Quality From Nature Wood Handmade. With Romantic Board Games Design That You Would Love And Right Size For Tic Tac Toe Board Decor.

Table Top Tic Tac Toe Family Game Night – Wooden Tic Tac Toe Game Small For Kids, The One Table Top Games Of The Most Delightful Children Games, And This Uniquely Designed Board Game Offers A Convenient Place To Store The Noughts And Crosses Keeping Them Safe And In One Place. Simply Slide The High Quality Real Wood Top Off And Place The Piece Inside For Safe Storage.

Board Games For Teens Conversation Starter – More Than Just A Tic Tac Toe Wooden Game Board And A Fine Piece Of Table Coffee Decor, This Wooden Tictactoe Game Is Sure To Be An Excellent Conversation Starter. Great For House Parties And Shy Guests, This One Of The Best Coffee Table Games For Breaking The Ice And Encouraging Conversation At Your House Party.

Wooden Games In Generous Size – Wooden Tic Tac Toe Game Was Built For 6-year Old Can Play At Size Of 5.5 X 5.5 Inches Of High Quality Blond Wood, This Game Is Easy For Little Hands To Play With. The Size Of The Game And The Noughts And Crosses Are An Ideal Size For Adult Hands Too!
This post contains affiliate links.