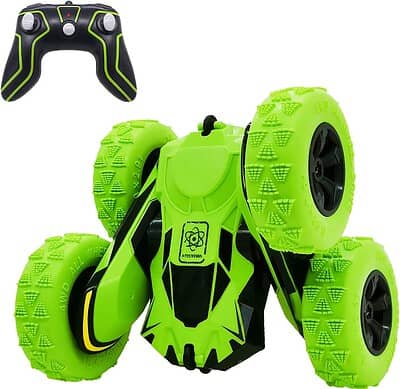 Save on Threeking RC Cars! These look like so much fun! In addition to the basic skills that ordinary remote control cars should have, the car can tumble in place at 360 degrees and drive on double sided. When the car encounters a small obstacle, use the remote to make the car roll or double-sided driving can easily pass obstacles, this function can also suddenly reverse in fast motion to make the toy car instantly turn into a dance car.
Get this Threeking RC Stunt Cars Remote Control Car Double-Sided Driving 360-degree Flips Rotating Car Toy, Green for only $23.99!
ANTI-INTERFERENCE: Easy Controls; Long-distance and anti-interference. Multiple sets of toy cars can compete together, and these cars will go their own way without interfering with each other. Kids will harvest their unique happiness together.

LET'S PLAY TOGETHER: The car equipped with 2pcs powerful electric motors and 4pcs high-quality soft and elastic rubber tires (shock absorption, anti-skid, have good grip). Whether we are indoors or outdoors, to choose the right place, let's go, the stunt car will bring a different driving experience to your kids.

FOR SAFETY: High-quality plastic and suitable printing, to make sure the material safe, the car fixed with dozens of screws and high-class electronic elements to ensure the structure of the car safe. So that will be more suitable for your kids.

FOR KIDS: In order to improve the child's hands-on ability and make the battery safer during charging, when need to charge, please open the battery cover on the back of the car body to remove the battery and connect it to the USB charger for charging.The rechargeable li-ion battery which not only lasts longer play time(about 25mins), but also has a smaller size and is easier to install.***The battery of the remote is not included!!!Nice gifts presents for 6 – 12 Years Old Kids.
This post contains affiliate links.