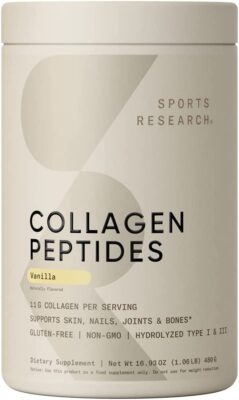 Save on Sports Research Dietary Supplements, Today ONLY!
Get this Sports Research Collagen Peptides – Hydrolyzed Type 1 & 3 Collagen Powder Protein Supplement for Healthy Skin, Nails, Bones & Joints – Easy Mixing Vital Nutrients & Proteins, Collagen for Women & Men, only $27.96 today.  RADIANT AND YOUTHFUL APPEARANCE: This collagen powder for women and men provides the protein and amino acids to support healthy nails, and also helps your skin look more radiant and youthful. Give yourself support from the inside out!
BONE SUPPORT: Amino acids support joint and bone health and improve your body's response to strenuous exercise, making this collagen powder a great post workout supplement and joint support supplement

EASY TO USE: Use one scoop of our drink mix daily as a smoothie powder or as a completely soluble protein creamer for coffee. Our collagen peptides dietary supplements also dissolve in water and are just 40 calories per serving

MORE COLLAGEN PER SCOOP: Our collagen peptides powder contains 11 grams of low molecular weight type 3 and 1 hydrolyzed collagen peptides with 18 amino acids, including glycine, proline, and hydroxyproline. Each serving contains 10 grams of protein

BEST INGREDIENTS: We hold our supplements to a higher standard. Our protein powder supplement is Certified Paleo Friendly, Keto Certified, 3rd party quality tested, and non-GMO with no artificial flavors, sweeteners, or hidden fillers
This post contains affiliate links.