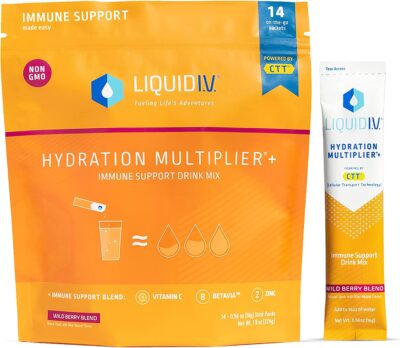 Here's a great healthier alternative to Gatorade for athletes! Save on Liquid I.V. Hydration, Energy and Immune Multipliers.
Mix each serving with recommended 16oz of water. If you have sensitivity to salt (sodium chloride) please consult your doctor before drinking an electrolyte beverage. Signs of salt sensitivity may include bellyaches, nausea or diarrhea. Get this Liquid I.V. Hydration Multiplier + Immune Support – Wild Berry Blend – Hydration Powder Packets | Contains Vitamin C, B3, B5, B6, B12, Zinc, & BetaVia | Gluten-Free, Dairy-Free & Soy-Free – 14 Sticks for only $19.49. 
Maintain and strengthen the immune system with NEW Wild Berry Blend Hydration Multiplier+ Immune Support. Lush Wild Berry Blend flavor has notes of fresh-picked strawberries, blackberries, and raspberries.

This great-tasting, all-in-one formula features our signature CTT-powered hydration plus 5x the daily value of Vitamin C combined with Zinc and BetaVia.

Cellular Transport Technology (CTT) is the breakthrough delivery system used in all of our products. CTT is designed to enhance rapid absorption of water and other key ingredients into the bloodstream.

Non-GMO and made with premium ingredients, Hydration Multiplier+ Immune Support powder drink mix contains 3x the electrolytes of traditional sports drinks and 5 essential vitamins (B3, B5, B6, B12, and Vitamin C). It's also vegan, gluten-free, dairy-free, and soy-free.

CONVENIENCE Single-serving, travel-friendly packets are easy to enjoy on the go. Pour one easy-to-open packet into 16 oz of water, mix or shake, and hydrate.

With each purchase you make, we donate a serving to someone in need around the world. Liquid I.V. provides much-needed hydration in disaster zones, hospitals, impoverished communities, and emergency living quarters across the globe. Since 2015, we have donated over 27 million servings.
This post contains affiliate links.