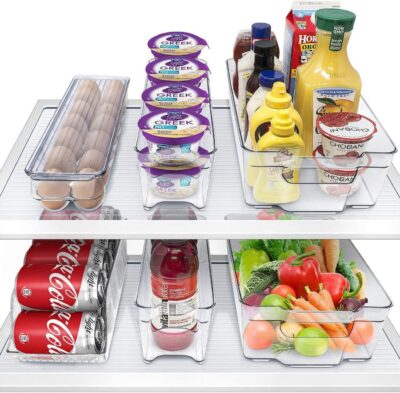 Organize your fridge in time for the food season! Today only, Save on Sorbus Fridge Organizers. Get this cool multi-pack and organize everything. Click here for the Sorbus Fridge Bins and Freezer Bins Refrigerator Organizer Stackable Food Storage Containers BPA-Free Drawer Organizers for Refrigerator Freezer and Pantry (Pack of 6), only $29.99!
Refrigerator organizer set – ideally sized to fit fruits, vegetables, and other food items in the fridge, freezer, or pantry – All drawers feature a built-in handle for easy pull-out and transport

6 piece set includes – 2 wide drawers – ideally sized to fit fruits, vegetables, and other larger sized food items – 2 narrow drawers – ideally sized to fit snacks, condiments, and other slimmer sized items – 1 can dispenser drawer – holds 10 (standard size 12oz) cans, small sized food cans, juice boxes, and other types of drinks – 1 egg drawer – stackable organizer holds 14 eggs

Clear view with easy access – always see and know what you have and need while making delicious meals – easy access pull-out container – also saves time and hassle of looking through the refrigerator for your favorite foods – now you can carry out BBQ essentials in one trip, quickly dispense favorite drink, keep snacks in one place, Easily grab eggs, and separate fruits and veggies

Clutter-free organization – organizers offer plentiful space to fit different types of food items while keeping your refrigerator looking coordinated – the sturdy egg lid allows multiple to be stacked, or other items placed on top – complements most refrigerator sizes

Durable sleek design – All fridge and freezer drawer organizers are completely BPA- free – clean by hand with Mild detergent and water – Do not place in dishwasher – Approximate measurements: wide drawer 14. 5″ L x 8. 5″ W x 4″ H – narrow drawer 14. 75″ L x 4. 25″ W x 4″ H – can drawer 13. 25″ L x 5. 5″ W x 4″ H – Egg drawer 14. 50″ L x 4. 37″ W x 3. 12″ H
This post contains affiliate links.