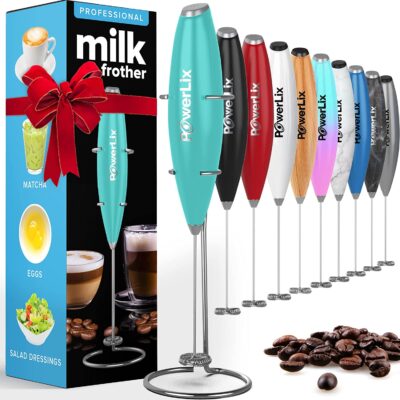 Click here to Save on Powerlix Milk Frothers!
If you don't have a frother it's a game-changer for your coffee! I love that this particular one has a stand, too. Have the professional finishing touch to your Latte, Cappuccino, Macchiato, Matcha Green Tea, Hot Cocoa, or iced Coffee without a trip to Coffee Shop. Get this PowerLix Milk Frother Handheld Battery Operated Electric Whisk Foam Maker For Coffee, Latte, Cappuccino, Hot Chocolate, Durable Mini Drink Mixer With Stainless Steel Stand Included (Carribean Aqua) for only $10.99. 
Get Creamy Froth Quickly: PowerLix brings you its small, portable handheld milk frother for frothed milk. If you love your morning coffee with lots of froth and foam, then you certainly want to have PowerLix frothing wand at home or your café style cappuccino. Great stocking stuffer stocking stuffers for men stocking stuffers for women. It comes with a stand accessories for easy storage and can be kept on the countertop.

Battery Operated For Perfect Froth in no Time: The handheld mixer is battery powered so you don't have to worry about cords and finding sockets. Heat up the milk, immerse the espresso maker into the cup and turn it on. This batidora de mano will start creating creamy froth on the milk instantly. Within 15 – 20 seconds, you have a cup filled with creamy froth and ready to go into your coffee latte.

Quality You Can Trust: Our milk whisk frappe maker is made of the best quality stainless steel. It has a powerful motor that gives you 19000 rpm and the dual spring durable long 18/10 food safe material stainless steel spiral whisk that won't rust or break over the time, delivers double the power of other frothers and professional espresso makers available. The power button on top makes it easy to use. The low noise motor barely makes a sound.

Beautifully Styled With Versatility: Great stocking stuffers for men, stocking stuffers for women, White elephant gifts, Christmas gifts. The machine is beautifully styled in aqua color to fit into any modern kitchen. It is lightweight and has ergonomically designed soft touch handle. Easy to use and easy to clean. This batidora de mano can be used to froth other liquids besides hot milk. Use it to make milkshakes for your kids or cocktails for your friends.

100% Return/Replacement Warranty: The milk frother is so handy and useful that you can gift it to your friends and family for Christmas holidays. Let them enjoy the convenience of making chocolate or cappuccino at home. we are confident of our product and know you will like it. This is why we back up our product with our no-questions-asked warranty. Order now and start to create thick and creamy foam for your homemade drinks.
This post contains affiliate links.