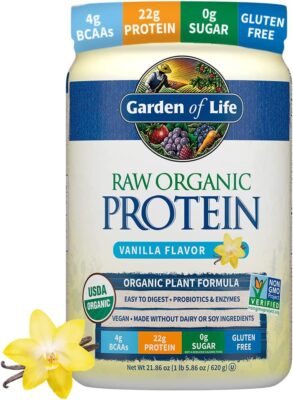 Click here to Save on Keto and Plant Based Protein from Evolve, Garden of Life, ISOPURE and more!
Unlock the nutritive power of living grains and seeds with Garden of Life Raw Organic Protein — a certified organic, Raw, vegan protein powder. Featuring 13 Raw and organic sprouts, Raw Organic Protein is an excellent source of complete protein — providing 22 grams and 34% of the Daily Value — including all essential amino acids. Raw Organic Protein contains Raw Food-Created fat-soluble vitamins A, D, E and K and supports digestive health and function with live probiotics and protein-digesting enzymes. By Garden of Life. Get this Garden of Life Raw Organic Protein Vanilla Powder, 20 Servings: Certified Vegan, Gluten Free, Organic, Non-GMO, Plant Based Sugar Free Protein Shake with Probiotics & Enzymes, 4g BCAAs, 22g Protein for only $27.01!
SMOOTH, CREAMY TEXTURE: Get 22g of muscle-building Certified Organic and Non-GMO protein made from peas and raw sprouted seeds, grains and legumes—plus 3 Billion CFU of live probiotics & 13 digestive enzymes—for a delicious blender free protein smoothie

COMPLETE PLANT BASED PROTEIN: Protein and BCAAs after a workout can help your body rebuild broken down muscle and reduce recovery time; Raw Organic Protein is a complete plant protein with all essential amino acids and 4g of naturally occurring BCAA

FOUNDATIONAL, ORGANIC FOODS: We combine the cleanest vegan proteins, including organic peas and 13 organic sprouted grains, seeds and legumes, with fat-soluble vitamins A, D, E and K, probiotics and enzymes, to help promote digestive and immune health

EASY TO DIGEST: Heat can denature proteins, reducing their availability to your body; Raw Organic Protein is made at low temperatures, preserving its complete amino acid integrity—with live probiotics and protein-digesting enzymes for proper absorption

EMPOWERING EXTRAORDINARY HEALTH – We start with what goes IN our products; whole food ingredients and rigorous standards because we believe in truly clean products you can trust. We do it because it's the only way we know how to deliver on our promise
This post contains affiliate links.