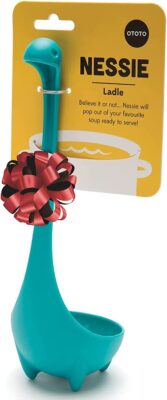 Bring a little fun back into the kitchen with today's deal: click to Save on Ototo's Kitchen Supplies!
Your 'beast' friend- From the Design Awarded OTOTO Studio comes cute and functional Nessie. Scoop from the depths of the pot and serve into bowls of fun with this turquoise Ladle Spoon. Nessie, the nifty spoon always adds a bit of fun into every kitchen!

A quirky little treat- Looking for new home gift ideas for your loved ones? Or funny kitchen gadgets to add to your collection? Nessie ladle design adds the kitsch to every kitchen! Serve soups, gravies, and more with this cute kitchen gadget friend.

A 'Nessie'-ssary tool- Get Kraken with fun kitchen gadgets like Nessie, your soup ladle friend. This beast can take the heat with its heat-resistant and dishwasher safe material. Perfect for all kinds of scooping, this kitchen tool is a must-have!

Always on standby- Nessie is always up and ready to use! Have Nessie by your side while you cook and serve your meals. OTOTO's kitchen tools and gadgets are best sellers for a reason. A big fan of animal-shaped utensils? You and Nessie are meant to be.

A sprinkle of fun- Ever heard of the one where they lived happily ever after? Well, that's always the story with OTOTO's products. Our team strives to create home products with a quirky twist. Our cute products are here to stop the bore in doing chores!
This post contains affiliate links.