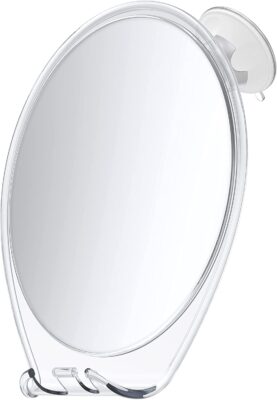 Save on HoneyBull Shower Mirrors!
No more cleaning out the sink after every shave. Shaving in the shower let's you focus on your shave without making a mess. The humidity in a hot shower also opens up your pores for a closer shave. Get this HoneyBull Shower Mirror Fogless for Shaving – with Suction, Razor Holder for Shower & Swivel, Small Mirror, Shower Accessories, Bathroom Mirror, Holds 2 Razors (Extra-Large White) for only $23.99!
Shave In The Shower: Save time by shaving in the shower with our fogless shower mirror

Does Not Fog: The anti-fog coating will keep the mirror fog free in hot steamy showers. No need to run it under water. It just works, every time

Easy to Install: Simply twist to lock our powerful suction cup into place. Shower mirror holds tight on all shower surfaces

Extra Razor Hook: Store your razor conveniently on the shower mirror. Additional hook for another razor or toothbrush is also provided. Great for bathroom accessories

Bigger & Better: Get a better look at yourself with this extra-large mirror. Perfect for comfortable viewing. This shower mirror is also a fantastic gift
This post contains affiliate links.