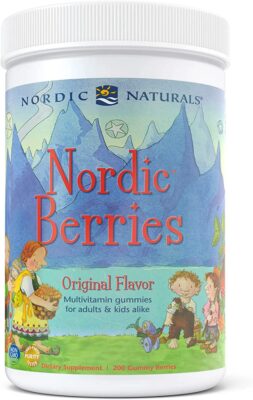 Save on Nordic Naturals Omega-3 and More!
From our first day in business in 1995, Nordic Naturals has been committed to doing whatever it takes to offer high-quality supplements to people wanting to live a healthy life.
From our early success selling fish oil to healthcare practitioners, our brand has grown to offer a broad range of nutrients to families, athletes, patients, and even pets. Get this Nordic Naturals Nordic Berries, Citrus – 200 Gummy Berries – Great-Tasting Multivitamin for Ages 2+ – Growth, Development, Optimal Wellness – Non-GMO, Vegetarian – 50 Servings for only $27.15.
DAILY ESSENTIAL NUTRIENTS – Nordic Berries provide ten of the most essential nutrients, including zinc and vitamins A, B, C, D3, and E.

DELICIOUS & CONVENIENT – Each citrus-flavored multivitamin delivers the daily vitamins and minerals kids need in a certified vegetarian, gluten-, dairy- & gelatin-free gummy they'll love.

AWARD-WINNING MULTIVITAMIN – Nordic Berries has won numerous awards, including Whole Foods Magazine's Natural Choice Award.

PURITY GUARANTEED – Everything we make is third-party tested, surpassing the strictest international standards for purity & freshness. This product is non-GMO, gluten & dairy free, and contains no artificial colors or flavors.

ETHICAL INNOVATION – Nordic Naturals has always been at the forefront of sustainable & ethical practices in the natural products industry. Through science & innovation, we are committed to delivering safe, effective nutrients for optimal wellness.
This post contains affiliate links.