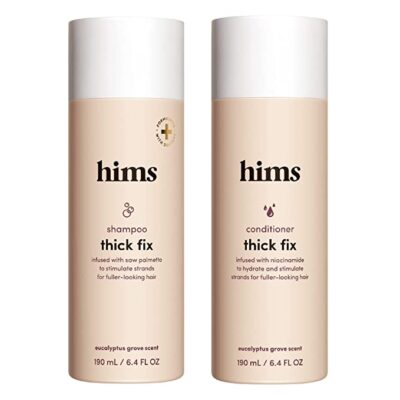 Save on Hims & Hers Hair Products today!
Featuring saw palmetto, this shampoo cleanses the scalp while promoting volume combined with a luxurious conditioner that helps promote healthy hair. Get this hims Thick Fix Shampoo and Conditioner Set for Men- Thickening, Moisturizing, Reduces Shedding- Color Safe Hair Loss Shampoo and Conditioner- 2 pack, 6.4oz for only $17.49.
THICKENING & HYDRATING: Sure, you've already got a shampoo in your shower. But your hair care routine can work harder for you. This thickening shampoo is designed to help you get that fuller hair look. Team it up with our conditioner for a hair care routine that is both volumizing and hydrating

CLEANSES HAIR FOLLICLE: Formulated to wash away oils and clean your hair follicles. This shampoo can help cleanse your scalp to help your hair appear thicker and healthier

MOISTURIZE & STRENGTHEN: What's an incredible shampoo without a conditioner? What's thicker-looking hair if it isn't hydrated and strong? Our conditioner is made to not only add moisture but to also help strengthen and repair your locks. Simply the best shampoo and conditioner for dry damaged hair

COLOR SAFE: No need to choose between the health of your hair or your hair color of choice. This shampoo and conditioner set is color safe and can moisturize and strengthen dry or damaged hair

NOURISHING INGREDIENTS: The Shampoo is formulated with saw palmetto, which helps wash away oils and clean your hair follicles. Our conditioner is rich with an amino acid blend, argan oil, coconut oil, and sunflower seed oil. Mixed together, you've got yourself a powerhouse of a moisturizer
This post contains affiliate links.