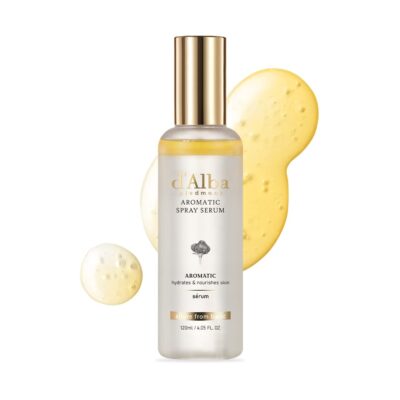 Save on d'Alba Piedmont today!
There are studied results of white truffles having 6 times higher content of polyphenols and 10 times higher content of flavonoids than propolis which makes white truffles a great antioxidant agent. They are both multi-functional spray serums, the Aromatic Spray Serum has a more intense formula with rose water for soothing benefits as well as hydration. Get the d'Alba Italian White Truffle First Aromatic Spray Serum, glowy hydrating antioxidant face mist, fragnant Vegan face mist for elasticity and hydration for only $24. 
VEGAN certified and derma tested facial spray serum for abundant hydration and firmness from deep within. A mild formula yet, with powerful ingredients, the Aromatic Spray Serum presents convenient and definite results.

With an internationally recognized Italian V-label certification, the trustworthy vegan formula is also hypoallergenic, mild for sensitive skin safely sealed with the approval of dermatest.

In-vivo tested results of skin elasticity improvement by 4% and deep hydration level improvement of 8% after 4 weeks of use. Also, tested for instantly reduced dry patches with just one spritz. Effective skincare treatment for your skin.

High-quality white truffles from piedmont infused with Tocopherol(vitamin E) together make dalba's one and only ingredient Trufferol, full of antioxidants. The exclusion of surfactants makes the double layering of plant-based oils and serum, deeply hydrating and retaining moisture.

The mist-like spritz pump helps the particles of the spray serum lightly land on the skin with comfort. Also, multi-functioned working as a mist/serum/setting spray. Use it both in your skincare/makeup routine in any and every step
This post contains affiliate links.