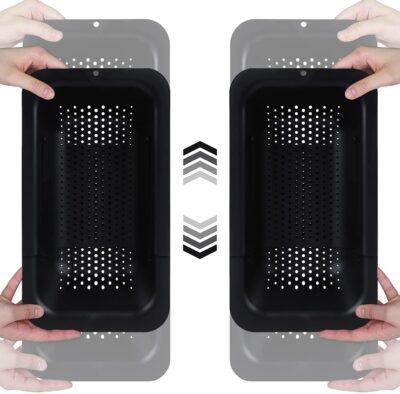 Click here to save on BLUE GINKGO Collanders!
Rumor has it this colander is a kitchen game-changer! It expands to fit most sinks and can be used to rinse produce, drain pasta, thaw frozen food, or air dry small dishes. Plus, it sits across your sink to keep drained water from backing up and save valuable sink space. Get this BLUE GINKGO Sink Colander Baskets – (Pack of 2) Wash Vegetables and Fruits, Drain Cooked Pasta and Dry Dishes – Extendable – New Home Kitchen Essentials (2 Black) for only $21.59!
Pack of 2 – (Colors: Black, Black)

Multipurpose Sink Colander – Easy to use and versatile. Stretch over your kitchen sink to rinse veggies and fruit, drain pasta, thaw frozen food or use as a dish rack to air dry utensils, cups and small plates. It's also comfortable to hold in hand and can be used on your counter as a basket. No matter how you use it, we think you'll love this colander's versatility.

Modern Design – Adjustable, this colander expands from 14 to 19 inches to hold more or less, save space when not in use and fit most sinks. When stretched over the sink, the bottom is raised from your sink base, preventing drained pasta water from backing up into your food.

Rinse. Drain. Dry. – Evenly spaced holes on the bottom of the basket helps prevent food from falling down the drain and increase airflow when drying small utensils and cups. The holes measure up to 0.2 inches in diameter, so this colander won't work for rice, quinoa, and most small grains.

BPA Free – This plastic colander is BPA Free, so you can use it to prepare healthy meals for your family.

Dishwasher Safe – Unlike some traditional colanders, this colander is easy to clean, dishwasher safe and will never rust.
This post contains affiliate links.