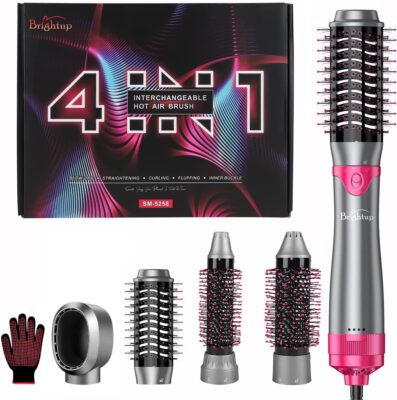 Find all the tools you know to master hair styles with Today's Deal: Click here to save on Hair Tools!
Get the Brightup Hair Dryer Brush & Volumizer with Negative Ionic Technology, Detachable & Interchangeable Brush Head, Hot Air Brush for Curling, Straightening & Styling, Heat Protective Glove Included for only $45.59!
【Interchangeable Brush Head Design & Heat Protective Glove】 Accommodate all your different styling demands with this 4 in 1 hot air brush kit, which includes 1 blow dryer head for drying, 1 52mm styling hair brush head for straightening and volumizing, and 2 curly hair brush heads for curling styles. Easily change brush heads with the press of a button. Plus, the included heat-resistant glove keeps you safe during use.

【4 in 1 Multifunctional】 Save time and money with this Brightup hot air brush, which combines drying, straightening, curling, and volumizing in one tool. The oval-shaped brush with nylon pin and tufted bristles adds volume to hair. The ergonomic handle and 360° swivel cord make it easy to use during styling. You'll have a mini hair salon at home!

【Upgraded Technology】 Enjoy shinier, smoother hair with this hair volumizer styler brush, which generates negative ions to condition and nourish damaged hair while reducing frizz and static.

【3 Temperature & 2 Speed Settings】 The three gears of low, middle and high are just the third gears for temperature, not speed. LOW: Low Temperature, HIGH WIND SPEED, for dry hair / fine hair, Suitable for summer use. (2 lights on) MIDDLE: Medium Temperature, LOW WIND SPEED, for semi-dry hair / normal hair, Suitable for styling. (3 lights on) HIGH: High Temperature, HIGH WIND SPEED for wet hair / thick and curly hair, Suitable for winter use, dry hair quickly. (4 lights on).

【Safe & Quiet】 This hair dryer brush is designed with double temperature protection and ceramic coating technologies to provide constant temperature and prevent hair damage. It meets US safety requirements, and its improved noise reduction design provides a comfortable, quiet experience.
This post contains affiliate links.