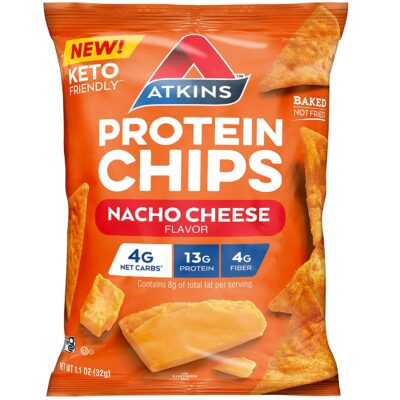 Save on Atkins protein shakes, chips, and more!
Atkins Protein Chips are the exciting new way to enjoy a crunchy snack. Your choice of delicious flavors with 13g of protein and 4g net carbs. Atkins Protein Chips are a great way to satisfy your need for chips without a ton of net carbs. Get this Atkins Protein Chips, Nacho Cheese, Keto Friendly, Baked Not Fried, 1.1 Ounce (Pack of 12) for only $17.88. 
SAVORY NACHO CHEESE FLAVOR PROTEIN CHIPS. This is the new snack with the great taste of nacho cheese and the crunch you crave in a chip.

STAY ON TRACK. Stay true to the Atkins Lifestyle with these delicious protein chips. Nacho Cheese Flavor Protein Chips have 13 grams of protein and 4 grams of net carbs.

AT HOME OR ON-THE-GO. Crave these tasty snacks that fit right into your busy schedule. Nacho Cheese Flavor Protein Chips are a great way to satisfy your need for a crunchy, salty snack.

KETO FRIENDLY. Help give your body the nutrients it needs without sacrificing salty snacks. Our protein chips have all the savory crunch you want in a snack chip without compromise. See individual products for nutrition information. The average person can expect to lose 1-2 lbs. per week. Results may vary. Weight loss is influenced by exercise, food consumed and diet. Products designed to be used with the Atkins ketogenic programs

ALWAYS BAKED, NEVER FRIED. The great flavor and crunch of a savory snack that's been baked, not fried.
This post contains affiliate links.