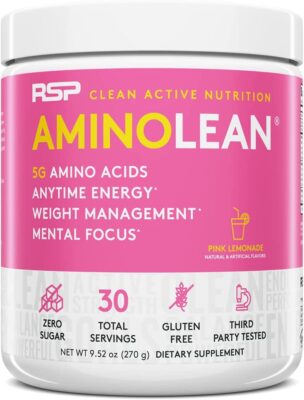 Click here to Save on AminoLean products!
No jitters, no crash. Use AminoLean as a pre-workout to push through every rep at the gym or anytime you need a boost with smooth energy provided by 125mg of caffeine from green tea extract. Take up to 3 servings at a time based on your personal needs. Get this RSP NUTRITION AminoLean Pre Workout Powder, Amino Energy & Weight Management with BCAA Amino Acids & Natural Caffeine, Preworkout Boost for Men & Women, 30 Serv for only $18.37. 
Pre Workout for Men and Women– 125mg of natural caffeine provides a clean, sustained boost of energy along with enhanced mental focus to help you crush your workout and maintain alertness throughout the day.

Natural Amino Energy – Naturally sourced caffeine means AminoLean can be taken any time of day with no jitters or crash. Use it as a preworkout powder, morning coffee replacement, or afternoon pick-me-up.

BCAA & EAA Amino Acids – 5g of branched chain amino acids and essential amino acids improve workout performance, build lean muscle, and offers a more complete amino profile than typical BCAA powder.

CLA, L-Carnitine, Green Tea – An optimal blend of these 3 diet friendly ingredients promotes natural weight management in combination with your exercise program to help maintain a healthy, lean physique year-round.

Keto Diet Friendly, Zero Sugar, Zero Carbs – AminoLean contains zero sugar, or carbs, making it a guilt-free, keto diet friendly all-in-one energy, weight management, and amino acids solution.
This post contains affiliate links.