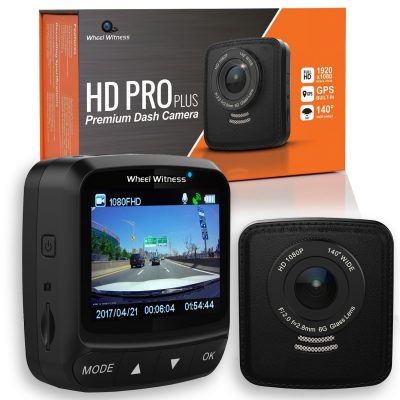 Get the WheelWitness HD PRO Plus Premium Dash Cam w/WiFi & GPS for $89.99 today. The GPS module accessory enables the dash cam to capture the speed, location and coordinates of the motor vehicle. The logging of such details can be played back showing the speed the vehicle was traveling at the time, along with real-time location movements of where the vehicle has been. Not sure this model is for you? Check out the other option on sale today!
✅ – EASY "Plug & Play" INSTALLATION – The WheelWitness HD PRO Plus Dash Cam is super simple to install. Just insert the SD card, mount the suction cup and plug in the power. The camera will AUTOMATICALLY Power ON/OFF with your vehicle!

✅ ON-THE-FLY-ZOOM – The only dash camera to offer On-The-Fly-Zoom function which will let you zoom (4X) while still continuing to record. This function really makes it easy to zoom into a license plate and helps you protect yourself!

✅ EASILY REVIEW, TRANSFER & SHARE RECORDINGS – The HD PRO Plus Dashboard Camera if fully compatible with Apple iPhone (iOS) & Android Smartphones allowing you to fully control the camera from your smartphone as well as transfer the files instantaneously so you can share online or have video proof on your phone! Of course you can also insert the microSD directly into your computer and transfer the files that way!

✅ PREMIUM VIDEO QUALITY – The Sony Exmor IMX322 CMOS Sensor coupled with a real 6-Glass precision lens allows the HD PRO Plus Dash Cam to record crystal clear in both Day & Night Time! Full High Definition Recording & Exceptional Night Time Vision Performance! EMERGENCY FILE LOCK – The HD PRO Plus allows you to Automatically or Manually lock any file as soon as it happens. The G-Sensor will detect an abrupt event and lock the file automatically.

✅ 100% SATISFACTION GUARANTEE – We love our customers and provide round the clock technical support if you have any questions! We will help you set it up in your specific vehicle (though it is super easy) and answer any questions to help you use it! If you are not happy with the camera, simply return it for a full refund!
This post contains affiliate links.