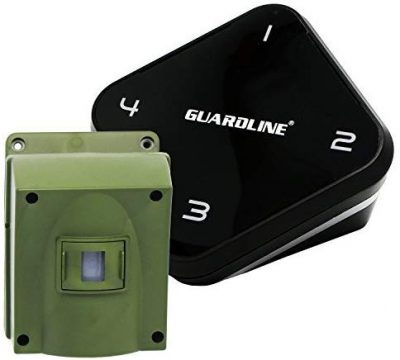 Want a safer home for 2020? Today only, save Big on Home Security for the Holidays from Guardline. As an industry leader since 2001, we're constantly advancing our reliable motion alert products to help improve your life. Our products and support provides you with peace of mind and control you deserve over your entire property. As a company, we are committed to providing simple and dependable motion alert products that generate consistent results. Get the Guardline ¼ Mile Long Range Wireless Driveway Alarm for only $99.99.
✔ SUPERIOR PRODUCT BY AN AMERICAN COMPANY: With over 250,000+ customers served since 2001, Guardline offers the most DEPENDABLE and accurate outdoor motion detector on the market today. With nearly 20 years of rigorous real-world testing and experience, we have perfected our product so you are guaranteed to be RELIABLY ALERTED to movement around your property.

✔ REAL PEOPLE, REAL EXPERTISE: We offer an industry leading 2-year warranty and our Seattle-based customer support is here to help you every step of the way—before AND after the sale. We pick up the phone when you call, offer live chat support and easy to follow video tutorials. We share honest reviews by REAL users, industry experts, and buyers like you. We encourage your decision to support American small businesses like ours.

✔ SUPER EASY TO INSTALL AND CUSTOMIZE: Our wireless outdoor motion alert sensor is a fully expandable and feature rich plug-and-play device that sets up in minutes. Simply place your sensor/or multiple sensors (expandable up to 16 sensors) anywhere on your property and when a person, vehicle or large animal moves within 40 feet of the sensor's angled eye, a signal will be sent to the receiver that will chime in your home just like a long-range doorbell.

✔ RELIABLE + REALISTIC RANGE: We guarantee a 1/4-mile wide range which has been tested in real world settings with trees, buildings, walls, and vehicles in order to make true and realistic wireless range claims. (Extra heavy interference such as thick walls, metal siding, tall hills, and many trees may diminish the wireless range). Our sensor uses Passive Infrared Technology to pick up motion AND heat, which means you won't get false alarms from dead leaves.

✔ YOU GET WHAT YOU PAY FOR: The folks at Guardline have dedicated nearly two decades and thousands of hours making the highest-quality outdoor motion alert sensor available so you can live your life with the control over your property that you deserve. PEACE OF MIND extends beyond our products—our quality technical support team will go the extra mile for you every step of the way. Guardline products are durable, reliable and backed by our staff that cares about earning your trust.
This post contains affiliate links.