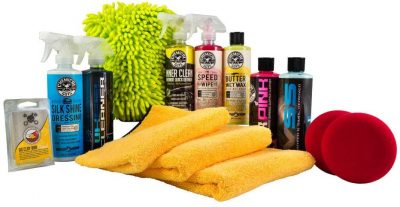 Clean up your act today: click here to save up to 40% on Chemical Guys. The Chemical Guys' complete car care kit empowers automotive enthusiasts worldwide to clean, restore, and protect their most treasured investments. This complete car care kit features every product the enthusiast or weekend warrior detailer needs to keep their car looking its very best start by washing away abrasive filth and dirt with Mr. Pink car wash Shampoo and the chenille microfiber wash mitt for a scratch-free shine. Blast away brake dust and restore deep gloss and shine to wheels, rims, tires, and brake parts with signature series wheel cleaner. Decontaminate paintwork and make it feel smooth as glass with the OG Yellow clay bar and synthetic clay lubber, then remove any pesky swirls and scratches with vss scratch & swirl remover. Get the Chemical Guys HOL123 Complete Car Care Kit (14 Items) for $59.98. 
Choose Mr. Pink for light duty cleanings, or citrus wash & gloss for heavy duty dirt, bugs, and grime

Clean, shine, and protect paintwork, Wheels, interiors, tires, bumpers, and more

All the best products assembled into one convenient package and at the best price

Great products for Wheels, windows and the paint

Wash, clay bar and wax to bring out that great shine
This post contains affiliate links.