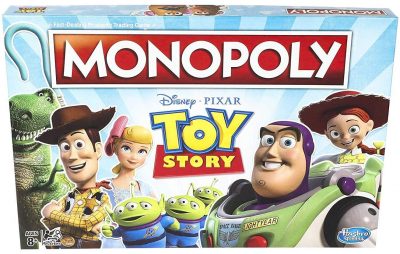 Here's a great way to cross mulitple names off of your gift list: click here to save up to 50% on Monopoly and Hasbro games! Get Yatzee, Scrabble Jr., multiple Monopoly versions and more all at a great discount! The fun and strategy of Monopoly meets the charm of the popular Toy Story movies! Players can choose to play as Woody, Buzz Lightyear, Bo Peep, Jessie, Alien, or Rex. As they journey around the gameboard they can visit some favorite places featured in the Toy Story films such as Andy's Room, Al's Toy Barn, and even the Claw Machine. Get Monopoly Toy Story for only $11.99 today!
BASED ON THE TOY STORY MOVIES: This family board game celebrates all four of the Toy Story movies with character tokens, Andy's Toy Chest Cards, and Birthday Cards

PLAY AS A FAVORITE TOY STORY FRIEND: This Monopoly Game comes with 6 Toy Story character tokens including Woody, Buzz Lightyear, Jessie, and other memorable characters from the Toy Story films

GREAT FAMILY BOARD GAME FOR AGES 8 AND UP: With similar rules to the classic Monopoly game, families can ease right into playing this Toy Story edition of the game; it's designed for 2 to 6 players

EASY STORAGE FOR TOKENS: Includes a paper toy chest for easy token storage.
This post contains affiliate links.