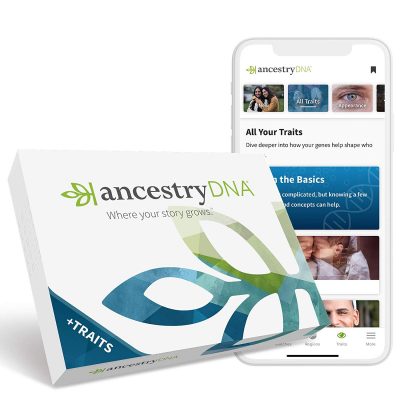 Expore more about what your DNA says about you and your family with AncestryDNA. Buy AncestryDNA: Genetic Ethnicity + Traits Test for only $49 today! This experience lets you learn, compare, and share discoveries about the traits your genes influence. See different regions that make up your estimate, learn the history of the area from ancient to modern times, and even learn surprising facts about locations and the people who called those places home.
Discover your DNA story with our easy-to-use kit. Simply send in your saliva sample to our lab in the prepaid package, and your report will be ready in around 6-8 weeks. Detailed instructions are included.

AncestryDNA is the #1 selling consumer DNA test.* From your origins in over 1000 regions, to the most connections, to living relatives—no other DNA test delivers such a unique, interactive experience. *Substantiated by AncestryDNA, January 2019 report.

Our DNA experience provides you with an ethnicity estimate and in-depth historical insights. AncestryDNA + Traits includes these features and so much more.

AncestryDNA Traits lets you discover 26 of your most interesting traits, allowing you to explore how your genes might have influenced a range of appearance, sensory, and other personal characteristics.

Enjoy new ways to understand how your appearance and sensory traits connect to people with the same AncestryDNA regions—including interactive features, survey insights, and fun facts. You can even choose to compare your details with other Traits customers.
This post contains affiliate links.