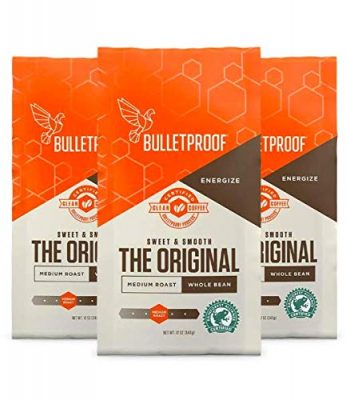 I have been wanting to try Bulletproof coffee for awhile and it looks like this is my chance! Today only, save up to 41% on coffee for International Coffee Day. Choose from Bestpresso Coffee, Maud's Coffee, L'OR Espresso Pods and more! Get the 3-pack of Bulletproof The Original Whole Bean Coffee, Premium Medium Roast Organic Beans for only $31.18. Bulletproof coffee is sourced from Rainforest Alliance-certified, passive-organic estates, where farmers grow coffee using traditional methods without chemicals. Experienced coffee harvesters hand-pick coffee berries at peak ripeness. After harvesting, we follow the strict Bulletproof Process, and independently screen and lab-test our beans. The cleanest beans are roasted in small batches in the U.S. using a meticulous process that results in the perfect cup of pure coffee every time.
WHOLE BEAN COFFEE: Our Whole Bean Coffee is the result of an obsessive pursuit to find the absolute highest performance coffee beans on earth. It's taken more than 10 years to identify every step of performance-robbing toxin formation in coffee and to find a reliable, perfect source of beans that always make you feel great. Clean and bright, Bulletproof Upgraded Coffee is a well-balanced coffee with a full body and undertones of caramel.

PRODUCED WITH HAND PICKED ORGANIC BEANS: Upgraded beans are harvested in Central America from passive organic estates without chemicals (herbicides, pesticides, etc.). Each bean is hand-picked by experienced coffee harvesters – skilled people who only pick perfectly ripe berries. When the coffee beans are not carefully hand-harvested, the beans can be mistakenly picked unripe and damaged, which impacts the taste and can possibly affect the way it makes you feel.

MEDIUM ROASTED: The beans are medium roasted in small batches in the United States under the strictest conditions, which minimize the formation of toxins from the roasting process. Roasting the beans enhances their naturally occurring antioxidant capacity and flavor to provide you with a delicious cup of coffee that has a minimized level of performance-robbing mold-toxins.

BULLETPROOF PURITY PROCESS STANDARD: Bulletproof Upgraded Coffee Beans are meticulously grown at high altitude on single estates in Guatemala, hand-harvested, carefully processed, handled and roasted to maintain maximum integrity and flavor. The final roast then undergoes proprietary lab testing to verify that our coffee meets the Bulletproof quality and purity standards.
This post contains affiliate links.