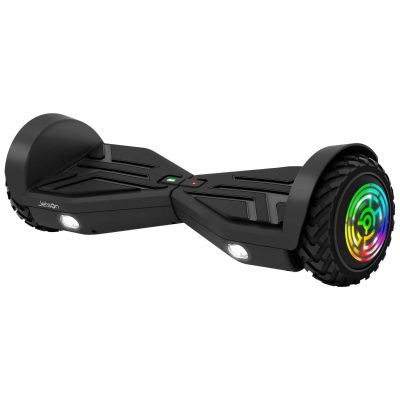 Get ready to ride in style with the Jetson Rogue All Terrain Hoverboard. This electric self-balancing scooter is a real showstopper with a smooth matte finish and awesome Galaxy light-up wheels that shine LED color lights in a pattern so unique you'll be turning heads as you race by. Featuring Active Balance Technology, the Rogue uses internal sensors to keep you leveled and stable as you ride.
The long lasting rechargeable lithium-ion battery is fully charged in up to 2 hours and provides an impressive range of up to 7 miles. Sporting a 400-watt dual hub motor, this powerful hoverboard reaches speeds up to 7 mph. That's all on 100% electric power. It also comes equipped with all terrain-tires and an anti-slip grip mat, so you can show off your hover board skills and explore more of your world than ever before!
Today only, get the Braha/Kowheel Hoverboard 3.0 with LED Light Up Wheels, Black, Neutral for only $99.99.
Front LED lights with Galaxy light-up wheels

All Terrain wheels designed to handle the more adventurous rides

Anti-slip grip pads help to stay balanced while riding

UL 2272 Certified Hoverboard with 100% electric power

UL 2272 safety standards certified
This post contains affiliate links.