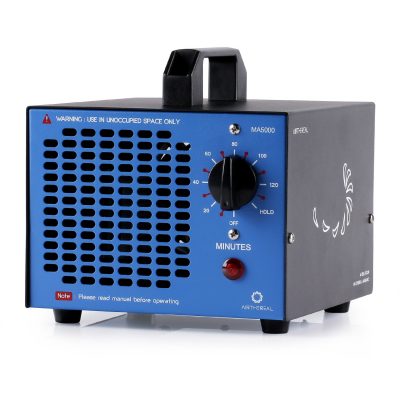 Today only, save up to 33% on Airthereal Ozone Generators. Choose from several models including this one: the Airthereal MA5000 Commercial Generator 5000mg/h Ozone Machine, only $54.99 today. Ozone exists in the ozone layer region of the atmosphere to protect human beings from the sun's ultraviolet radiation. We also sense its fresh and clean smell after thunderstorms.
With Airthereal ozone generators, we use this nature's powerful deodorizer to help household cleansing. Ozone (O3) contains three atoms of oxygen. The third oxygen atom makes ozone extremely reactive, which readily attaches itself to other molecules. When pollutants meet ozone, oxidation reactions occur and both parties are destroyed. Ozone essentially reverts back to oxygen. Keep the stinky smell away with ozone treatments twice a week.
COMMERCIAL OZONE GENERATOR: 5000mg/h ozone output deodorizes your space from odors, smoke and VOCs. Use ozone generator twice a week, keep an ethereal ambiance.

AIR TREATMENT & ODOR REMOVAL: Ozone Generator is great for your home, offices and rooms, smoke and pet areas, musty basement, car, boat, restaurant and bar, kitchen, hospital, school and kindergarten, water and fire damaged areas and more.

ONLY USE IN UNOCCUPIED SPACE: Timer function can be set up to 120 minutes and you can also use "HOLD" mode to keep it on. We strongly recommend you to set timer before you leave the room, ensure that no one (and also pets) in the room when ozone machine is working. Treatment times are approximately 10 minutes to 60 minutes depending on the size of space, and get back to the room when all residual ozone revert back to oxygen, which costs normally 30 minutes.

PORTABLE AND ENERGY SAVING: Equipped with an insulating rubber handle, you can take Airthereal MA5000 ozone generator everywhere. Ultra-low consumption and energy saving. Only 50 watts that 20 hours' operating costs approximately 1 KWH.

100% SATISFACTORY: USA 110V only model. The ceramic ozone plate replacement is available for purchase (Search for: B07D8HGZZ8).
This post contains affiliate links.