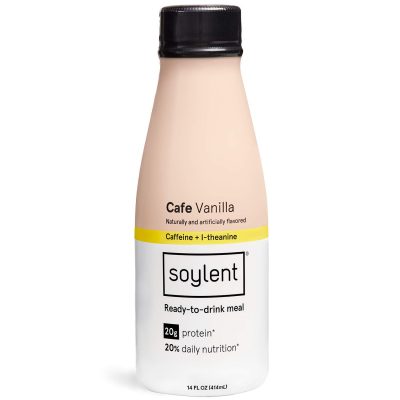 Today only, save 30% on Soylent products. If you've ever skipped a meal, made a compromised nutritional choice, or forgotten your lunch at home, you've been in a food void. "Food Void" is our way of describing the place where you're stuck eating something you'll likely regret or when you don't eat at all. Soylent is the easy, affordable, delicious solution to help you avoid food voids. Get Cafe Vanilla Soylent Meal Replacement Shake, Cafe Vanilla, Complete Meal in a Bottle, 20g Plant Protein, 14 Fl Oz Bottles, Pack of 12 for only $27.30. 
Complete meal in a bottle: Perfect on the go meal for breakfast or lunch

20 gram plant protein: To keep you going throughout your day

36 essential nutrients: Providing you the micronutrients and other good stuff you need

Creamy and delicious: No sacrificing taste for nutrition

Slow burning carbs: Helps you get full and stay full

Plant based, vegan, gluten free, nut free, dairy free, low gi

Ingredients: isolated protein from soy, slow burning carbs from beets, and all essential vitamins and minerals. Contains no animal products.
This post contains affiliate links.