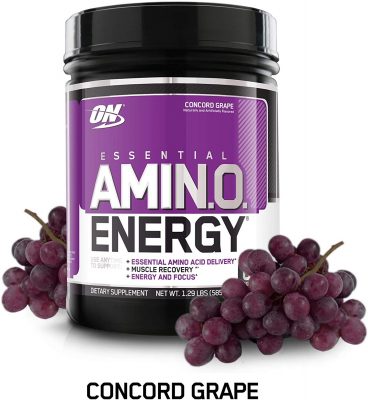 Ready to really take off on those New Year's Resolutions? Today only, save up to 30% on Optimum Nutrition Products. Choose from products like Pre-Workout, Gold Standard Whey, Collagen and many more! Get OPTIMUM NUTRITION ESSENTIAL AMINO ENERGY, Concord Grape for $22.74.  That's a savings of $9.74!
Amino blend a perfectly blended mix of amino acids to aid in muscle recovery

Energy blend with 100 milligram of caffeine coming from green tea and/or green coffee extracts to supply you with a boost of energy to help you get through the day or a grueling workout

Mental focus don't allow the day to get the best of you, the unique formula in essential amino energy helps provide you with the mental focus you need

Any time formula this unique formula is perfect for any time of the day such as helping you get energized and focused in the morning, helping to stay focused and productive in the afternoon, or even supporting your energy levels and focus in the gym

5 calories per serving. 1 gram of carbs. No sugar. 10 plus delightful flavors to choose from. Also check out our new essential amino energy and electrolytes
This post contains affiliate links.