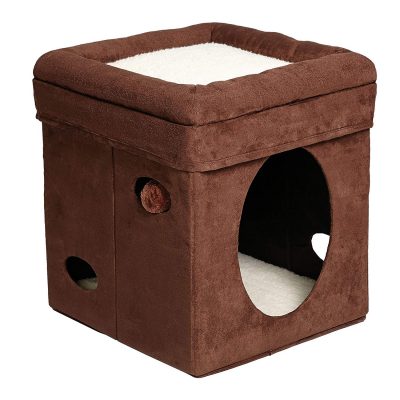 If you have a feline friend, you'll want to take advantage of Today's Deal: click here to Save 30% on your Meowy Favorites. Choose from treats, a water fountain, automatic pet feeder and more! Get the MidWest Curious Cat Cube, Cat House / Cat Condo for only $20.39. Designed to fulfill your cat's instinct to lounge and play, the Curious Cat Cube by Feline Nuvo offers a cozy retreat and a playtime paradise.
The cushioned bed topper with stuffed bolsters is ideal for elevated lounging, while the inside offers luxurious, synthetic sheepskin bedding for a peaceful, private hideaway. When your cat is in the mood to play, he can lie inside, play peekaboo, and paw at friends through the hide and seek cut-outs, providing hours of engaging fun.
The "Original" Curious Cat Cube by MidWest! This cat cube measures 15.5″W x 15.5″L x 16.5″H when assembled, brown faux suede & synthetic sheepskin

Strong / sturdy construction, cat hide-out is fast to assemble & collapses flat when not in use for easy storage & travel

Cat hide-away includes plush hanging ball w/ "hide & seek" cut-outs to promote play, a nice private den creates a fun cat hide-out & a comfortable cushioned top promotes relaxation for your pet cat

Curious Cat Cube, cat house / cat condo is a great retreat for cats & small dogs, entry-way measures 7.3W x 10H inches

Neutral brown faux suede compliments any home décor. Cat Cube includes a 1-year Manufacturer's Warranty
This post contains affiliate links.